Six miles south of Wilmington, on a point of land jutting out into the Delaware, one of the oldest towns in the country. Retains many objects of historical interest. Settled by Swedes in 1638, it has been called by no less than six names as Swedes, Dutch or English took possession: Grape Vine Point, Sandhuken, Fort Casirnir, Fort Trinity, New Amstel, New Castle. This last being given by Sir Robt. Carr when the British conquered the Dutch here in 1664.

The Common Farms, given under a Charter from Wm. Penn, 1701 for use of inhabitants of New Castle, consisting of 1000 acres of fine farm land adjoining town.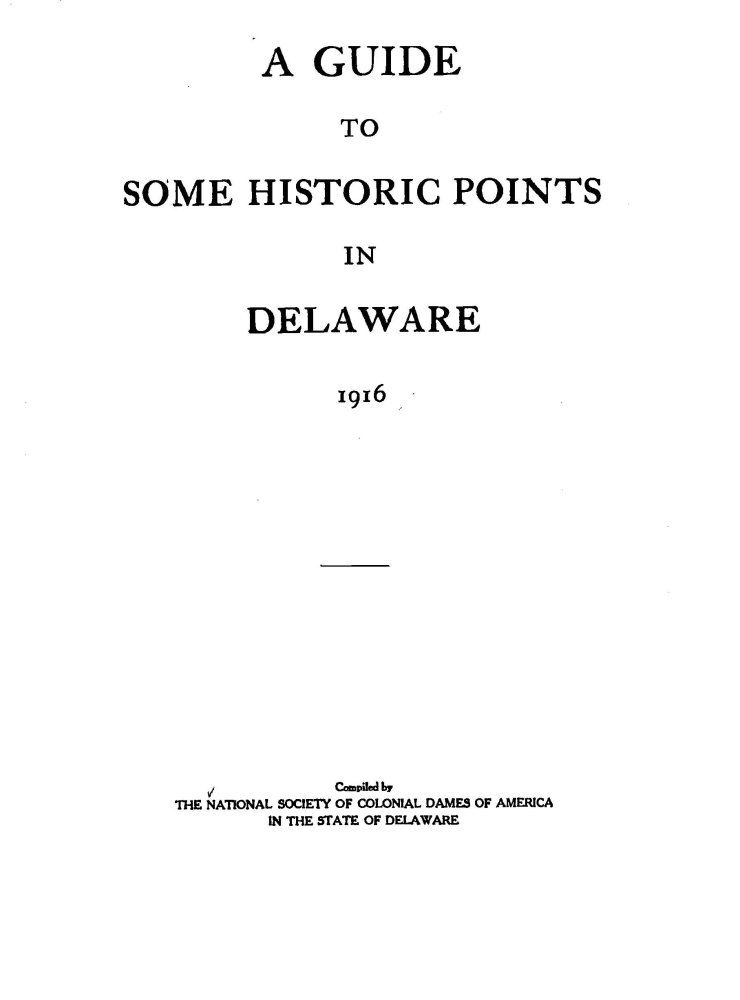 COURT HOUSE formerly State House. At the foot of Delaware Street-Wm. Penn first landed in America October 28th, 1682. Proceeding to Court House he was presented with "Turf and Twig, Water and Soyle" in token of his Proprietorship. Oldest Court House in United States, centre of 12 mile circle forming northern boundary of Delaware, scene of many famous trials. In the Court room are two pillars on which the hands of criminals were placed while being branded with hot irons. Quotation from Enoch Andersons Diary (Haslets' Regiment July 4th1 1776) "Ure took out of Court House all of the Insignia of Monarchy, all the Baubles of Royalty and made a pile of them before the Court House and burnt them to ashes. A merry day we made of it." Tablet erected by C. D. A.

BATTERY. Name dating from Dutch occupation. Later used as terminus for New Castle and French Town Rail Road. First Steam Passenger Road in this coun.try 1832. Succeeded stage coach and boat line. Main line between north and south; used by La Fayette, Pres. Andrew Jackson, Henry Clay, Black Hawk, the famous Indian Chief, etc.

Monument on Market Square built of stone ties from New Castle and Frenchtown Railroad.

Great Dyke north east of town, built by Dutch about 1653. In bay below New Castle took place small naval battle of Revolutionary War. Two British War vessels "Roebuck and Liverpool" were beaten off by 13 war galleys.

STONE,(Second and Chestnut) marking site of Fort Casimir. First Dutch Fort, 1651. Marked by C. D. A.

IMMANUEL CHURCH. Founded 1689, built 1704. Hangings and silver presented by Queen Anne, First English Church on Delaware. Old records date from 1700. A few of the graves are as follows: George Read, Signer of Declaration, Framer of Constitution, Senator, Judge of Admiralty, President of Delaware and Chief Justice.
- Peter Jaquette of Long Hook, 1718-1772.
- Rev. Walter Hackett, Missionary, 1700-1733.
- Mary McKean, wife of Thomas McKean, Signer of the Declaration.
- Thomas Stockton, Gov. of Delaware, 1781-1846.
- Col. John Stockton, officer of the Revolution, 1755-1822. - John Stockton, U. S. N. killed in battle of Lake Ontario, 1813.
- Kensey Johns, Chief Justice and Chancellor, 1759-1848.
- James Booth, (Sr.), Chief Justice, 1753-1828.
- James Booth (Jr.), Chief Justice 1789-1855.
- James R. Black, Judge of Supreme Court of Delaware, 1785-1839.
- Nicholas Van Dyke, Governor of Delaware.
- Nicholas Van Dyke, (Jr.), Senator 1770-1826.
- Gunning Bedford, Governor of Del., Col. in Rev. Army. Died, 1797.
- Jehu Curtis, Judge 1692-1753. Epitaph written by Benj. Franklin.

OLD PRESBYTERIAN CHURCH built 1707.

OLD DUTCH GRAVEYARD rear of Church, 1657.

THE GREEN. In centre of town; dates as a Public Square from the time of Petrus Stuyvesant, 1658.

Portion of old "Kings Highway" or Maryland Road, sunken road in lawn of Deemer Estate, New Castle.

A few of the old houses in town and county are mentioned here :

House on 3rd near Harmony, probably oldest house in New Castle, called Old Dutch House.

GILPIN HOUSE, opposite Court House used from 1741 as a Tavern. Extract from Washington's Diary en route for First Continental Congress, "Breakfast at Galena, dined at Buck Tavern, lodged at New Castle, 18 miles further," Sept. 3rd, 1774.

House Cor. Strand and Delaware Sts., built 1732 by- Mr. Van Leuvenigh. Residence of Mrs. Postles.
When the messenger came from Boston carrying through the Country, news of Battle of Bunker Hill, it was "franked" and he sent on his way at this house by Wm. Van Leuvenigh.

House opposite Court House, very old, enlarged in 1790 by Chief Justice Booth, occupied by Geo. Peirce, Esq.

House built 1801, now Parish House Irnrnanuel Church. Interesting doorways and woodwork.

House, West Cor. Del. and Third St. Built by Nicholas Van Dyke, Senator. Residence of Mr. David Boulden. In this house in 1824, took place the marriage of Charles I. du Pont and Dorcas M. Van Dyke. At this wedding, Marquis de La Fayette gave the bride away.

House, North Cor. Del. and Third, built by Chancellor Johns 1785, occupied by Dr. Booker.

House, North Corner Fourth and Del. Once occupied by Nicholas Van Dyke, Sr., Gov. of Delaware. Called Amstel House, built about 1732. Fine doorway and woodwork. Residence of Prof. H. H. Hay.

House on Strand, built by George Read, Jr. 1801. Fine example of Colonial architecture. Residence of Miss Hetty Smith.

House of George Read, Signer, stood in garden of this house. Burned in fire of 1824, which destroyed most of the old houses on Strand.

House, West of New Castle, Cor. Washington Ave., called Stonum, built before 1766. Residence of A. H. Padberg, Esq.

SPRING GARDEN Hare's Corner road, one mile from New Castle. Built by Richard McWilliams, about 1750. Fine Colonial wood work.

THE HERMITAGE , Hare's Corner Road, just out of New Castle. Colonial House built by Nicholas Van Dyke, 1798.

BUENA VISTA, Country Place on State Road, built by John M. Clayton, 1846 when he was Secretary of State under President Taylor. Residence of F. N. Buck, Esq.

NIVIN PLACE. On River Road, Lighthouse Lane, west, built by Col.Jacob Grantham, 1760. (Owned by Mr. Enos).

MANSION HOUSE, River Road and Hamburg Lane, built by Col. Alex. Porter in 1750 (Now Rodney Farm).

House, one mile above New Castle on River Front, called Eves Place, having a cannon bnll imbedded in wall from the Roebuck in 1776. This is also the site of the first Swedish Settlement near New Castle, "Swanwlck," of which no trace remains.

HOUSE IN PORT PENN. Oldest house, hippcd roof, date unknown.

House in Port Penn having cannon bull in watlls from Roebuck. Called Stewart House, built 1728.

...

RED LION INN. Built 1790. Rebuilt 1820. English names in this vicinity are interesting, "The Buck," "The Bear," "Red Lion," "St. Georges', " "Dragon Creek."