Penn-Seaboard Steel Company, New Castle approx 19xx? Courtesy Hagley Museum and Library Click to enlarge
Twin Span Business Park
formerly
Baldt, Brylgon and Penn-Seaboard Steel
Adjacent to the Immanuel Church Glebe and 'new' cemetery on Rte 9 is a business park that shows little trace of
its history as home to 'smokestack' factories. About the only trace are some street names and the shadow of a dock on aerial photos. Anchor Mill is the main entrance street .Across Rte 9 are Baldt and Brylgon avenues. The main product of the Baldt steel mill was anchors and mooring chains. The current occupants of the site are large warehouses and truck transfer buildings.
The Trustees of New Castle Common invited industries to relocate to this waterfront area with an offer of free land and tax immunity in return for an agreement to build a factor and employ a certain number of workers. Baldt steel from Chester, PA built a mill in 1896, and Brylgon steel from Reading, PA, built neaby. Both are shown (1 and 2) on the 1906 USGS map, and in the 1907 Cooper sketch of the location of Ft. Casimir and Bull Hill.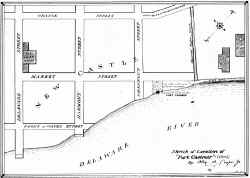 By the time of this 1929 photo (courtesy Hagley Museum and Library), the mills had been enlarged and combined and were the property of Penn-Seaboard Company.

In this 1954 photo below (courtesy New Castle Soil Conservation District) the mill appears abandoned, with its pier a mere skeletal framework in the water.
Residents Recolleticons
Bill Smith??? (b 192X) recalls that both his father and brother worked for Penn-Seabord. His father lost an eye at the plant, but continued to work there until it closed around 19XX. He then went to work for American Manganese Steel Co until he was in his 70's. Bill;s brother lost a leg in a ...