'Rediscovery' of a Portrait by John Hesselius of a New Castle Subject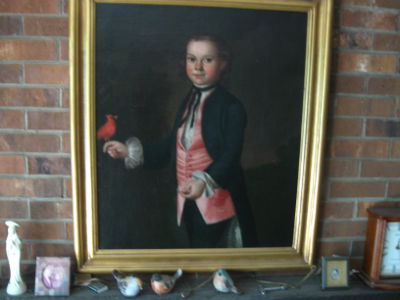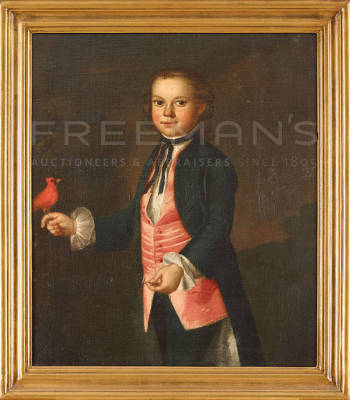 Portrait of Slator Clay Jr, age about 5, c1759
Courtesy the former owners and Freeman's, Philadelphia. Click on images to see full size.
This month, a charming image became public of a 5 year old boy who in 1759
lived at the site
of the current 30 The Strand, New Castle. The portrait of Slator Clay Jr. by John Hesselius was sent by the owners to Freeman's for
sale on November 11, 2015
. It sold at auction for $44,000 to a private buyer.
The portrait's first eight generations of owners:
Slator Clay m Ann Curtis ->
Rev. Slator Clay Jr. m Hanna Holstein Hughes ->
Charles Holstein Clay m Maria Evans ->
Harriett Potts Clay, m Edmund Leaf ->
Edward Bowman Leaf, m Elizabeth Trenchard ->
Harriett Clay Leaf m George Upton Favorite ->
George Upton Favorite m Miriam McGarey ->
Former owners
Information from
1895 genealogy
and former owners.
At least 42 portraits have been identified of
people from New Castle, DE
, painted between 1750 and 1850. Most of these are available for viewing from museums, historical societies, gallery catalogs etc., but some are in private collections: hanging on the walls of descendants, but made available for public viewing after being photographed. It seems likely that there are more, hanging in private, waiting to be 'discovered', although the descendants have known about them for 150-250 years! As
Fleisher wrote
in 1981" Although Hesselius' portraits of these [Clay] children may still survive, none has yet come to light, reminding us that ... works of colonial art are still waIting to be discovered."
Such may be the case for other portraits of the Clay family. Hesselius came to New Castle in 1759, painted Anna Dorothea Finney (shown below), Slator Clay Sr., his wife, mother-in-law, and at least 3 of his then living children: Thomas, Slator Jr and Mary. Missing are portraits of Curtis, Robert and John who would have been about 12, 10 and 8 and 1759.
The portrait of Slator Jr., like most the
50 or so of his other portraits
is brightly colored and shows the subjects' eyes as oval or almond shaped. Although most of his paintings do not have props, a few have symbolic elements like a book, telescope or a ship in the background. Slator Jr. is holding a cardinal on a tether. I guess that this prop is not symbolic, but a decorative element similar to that used by Hesselius' teacher Wollaston two years earlier in a
portrait of Mann Page
of Virginia. Note the fine clothes, with lace at the cuff and lined coat. It was the custom of the time to depict children as miniature adults, and fine clothing is shown in the Mann Page painting and the Hesselius portrait a few years later of
Charles Calvert
.
The portrait is attractive and a welcome addition to our being able to visualize our colonial-era predecessors.

Anna Dorothea Finney

Slator Clay

Ann Clay, Mary

Thomas Clay

Slator Jr.

Mary Curtis Van Bebber
Courtesy Biggs Museum of Art, Dickinson College, Schwarz Gallery, Philadelphia Museum of Art, Freemans's, New Castle Historical Society
Clay children: Curtis, 1747-1809; Robert, 1749-1831; John, 1751-1779; Thomas, 1753-1793; Slator, 1754-1821; Jehu, 1756-1757; Jehu, 1757-1758; Mary, 1758-1801; Ann, 1759-1846; Elizabeth, 1760-1822; William, 1761-1797; George, 1762-1805; Sarah, 1764-1826
Freeman's catalog listing:
Attributed to John Hesselius (1728-1778)


Portrait of Slator (Slater) Clay (1754-1821) of New Castle, DE and Philadelphia, Pa, 1759

Pencil inscription to verso of re-lined canvas, likely transcribed from original, "Slater Clay 1759 age five years J.H.," oil on canvas, framed.
29 1/4 in. x 24 3/8 in. (sight)

PROVENANCE:

Descended in the family of the sitter to the present owner.
A letter, written by William John Potts and dated July 10, 1879, notes that "a portrait in oil, about three quarter length of the Rev Slator Clay is in the possession of Mrs. Harriet (Clay) Leaf wife of the Rev Edmund Leaf Rector of the Church at Birdsboro PA. Mrs. Leaf is the dau. of Chas. Clay and grand daughter of the Rev. Slator Clay. The portrait is not of much merit as a work of art. It was taken at the age of five years in 1759? The young gentleman is represented with a cardinal bird in his hand a favorite style of the day. As this may be the work of an early American painter (...Hesselius?) it is of interest."
Estimate $20,000-30,000

A probable fourth to add to a series of three known paintings by John Hesselius depicting members of the notable and distinguished Clay Family of New Castle, Delaware, as discussed in Fleischer, Roland E. "Three Recently Discovered Portraits by John Hesselius," The Magazine Antiques, March 1981, pp. 666-668. The existence of this portrait seems to confirm Fleischer's suspicions that Hesselius painted the Clay's other children concomitant to his painting of Slater Clay (1711-1767), Ann Clay (1723-1789) with Mary Clay (1758-1801), and Thomas Clay (1753-1793) in 1759.

From the use of rich color and careful depiction of fabric to the sitter's elegant pose and pleasant disposition, the present portrait bears much stylistic resemblance to Hesselius's portrait of Thomas Clay, discussed by Fleischer and currently in the collection of the Philadelphia Museum of Art, accession number 2009-16-9 (see illustration above). These artistic choices bespeak a maturation in Hesselius's style that is often attributed to the influence of John Wollaston (1710-1775), an English painter who was active in the Colonies from 1749 to 1767 and who helped introduce the more decorative traditions of the English Rococo into Colonial portraiture.

Fleischer notes that with his first known painting dating from 1749, John revealed that "he had largely abandoned the sober, naturalistic style of his father [Gustavus Hesselius (1682-1755)] in favor of the brighter, more decorative style of Robert Feke [c.1705-c.1752];" however, it is in the portraits of the Clay family that Fleischer believes we can distinctly detect Hesselius's shift away from Feke towards Wollaston, with the portrait of Thomas Clay, and arguably now, also the portrait of his brother Slator Clay, being the most "stylistically advanced." The composition of the present painting may have been inspired directly by Wollaston's double portrait of Mann Page and his sister Elizabeth, 1757, in which the young Master Page is depicted holding a tethered red cardinal in his outstretched arm.

The fifth child of Slater Clay (1711-1767) and Ann Curtis Clay (1723-1789), Slator (Slater) Clay was born on October 1, 1754 in New Castle, Delaware. He married Hannah Holstein (1748-1832) on December 3, 1786 in Philadelphia, Pennsylvania. Though a trained lawyer, Clay later shifted his focus to religion and was ordained a deacon in Christ Church, Philadelphia by Bishop White on December 23, 1787. According to an account by one of his sons, Rev. Jehu C. Clay (see: Hotchkin, Rev. S.F. Early Clergy of Pennsylvania and Delaware, (1890), pp. 91-93), Rev. Slator Clay was, "five feet and eight inches high, and his body was slender and delicate, his eyes were of a hazel color, and his countenance was 'benign and interesting.' He was affable to friends. His Christian character made him humble, gentle and childlike." Slator and Harriet had four children: Ann, George, Jehu Curtis, and Charles Holstein, the last of whom was appointed the executor of Slator's will and estate.



Jim Meek October 2015