New Castle, Delaware
Community History and Archaeology Program
New Castle Photos c1878
Gothic Style Presbyterian Church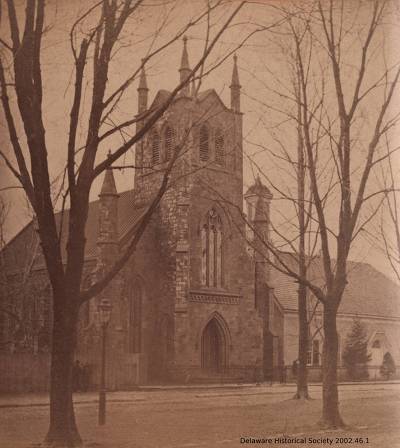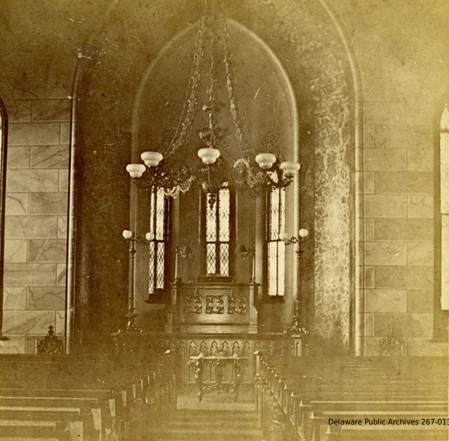 From stereographs courtesy Delaware Public Archives and Delaware Historical Society Click on images to enlarge
The first church on the current site on 2nd street was built in 1707. It was a successor to the
Dutch Reformed church at 26-28 the Strand
of 1657. The 2nd street building was enlarged in 1712. The entrance was later moved from 2nd street to the northeast side, and a tower and choir loft added. The building served the congregation until the gothic style building was erected. (first service held May 10, 1854), and the old building became a Sunday School and prayer meeting room. Serious structural and heating defects appeared almost immediateley. They worsened in the 20th century, and
after the report
of an architectural consultant from the National Board of Missions, the building was demolished in 1950.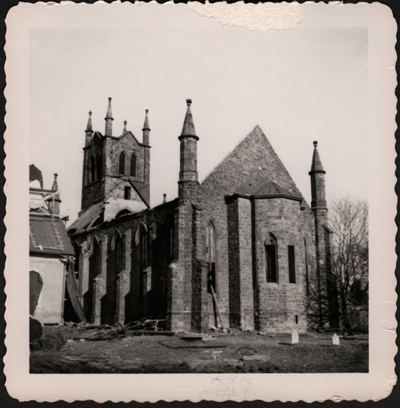 The interior picture above had no identification when it was acquired by the Delaware Public Archives.
It looked like it COULD have been the old Presbyterian Church to members of the church who still remember it, but they were not certain. Evidence that the picuture was of the New Castle Presbyterian church includes the similar proportions and style of the side and apsidial windows to those photographed as the church was being torn down and the ornately carved chairs in the picture on either side of the apse which can still be seen in the Presbyterian manse.