The corner of The Strand and Delaware Street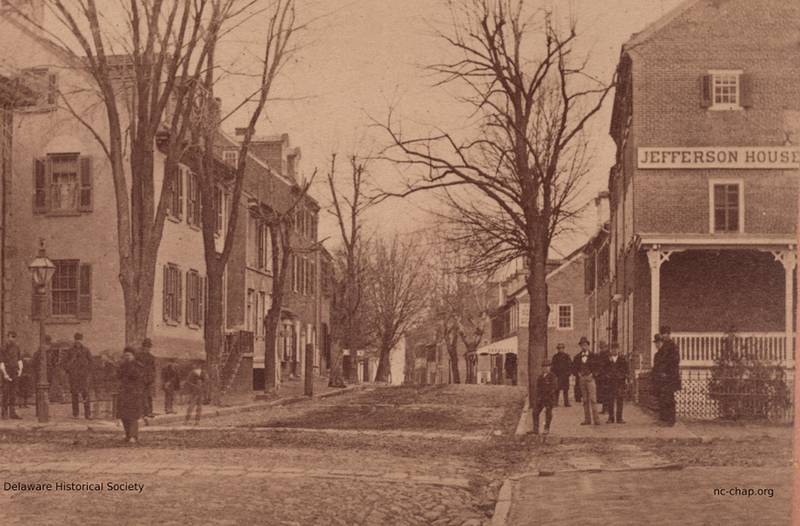 From a stereograph courtesy Delaware Historical Society. Click on image to enlarge
A busy corner c1880 looking down The Strand in the image above, or looking up Delaware street from the same location in the image to the right.
The pictures might or might not have been taken one after the other. The 1885
Sanborn Insurance map
helps us to identify the buildings.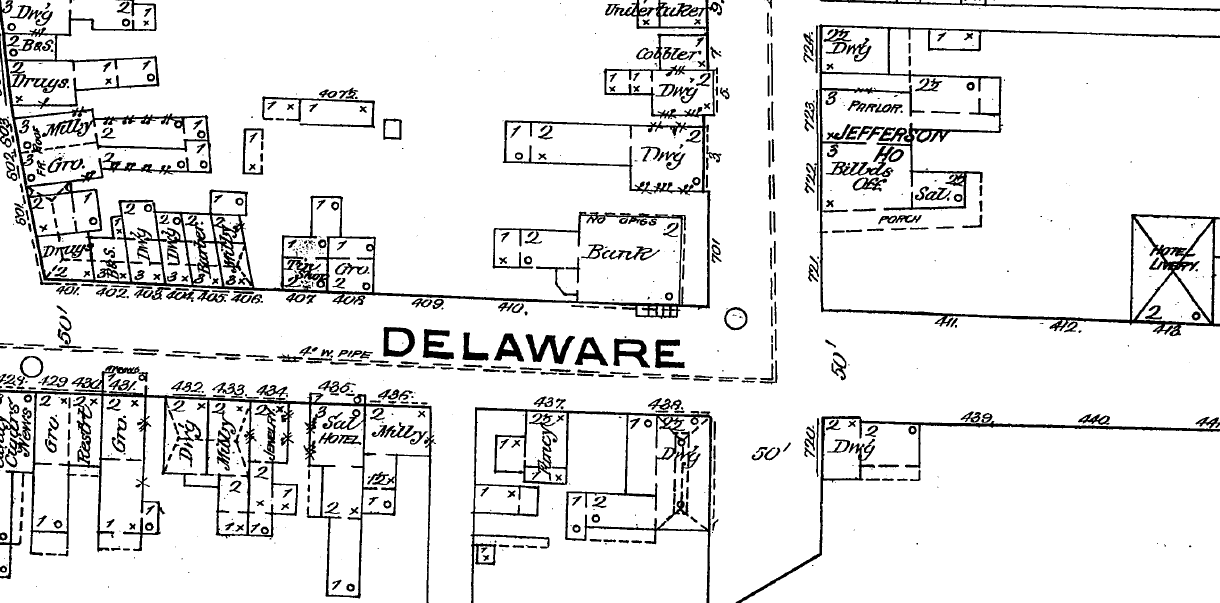 We see the Jefferson House Hotel with a billiard parlor on one corner, the Farmer's bank on the opposite corner in the picture to the right, and the back of the Van Leuvenigh house in the corner opposite the bank.
D. Boulden's store (now with an Ivory Soap sign) is up The Strand on the right. The cobbler and undertaker shops shown on the map as one story are just visible between 8 and 14 The Strand on the left.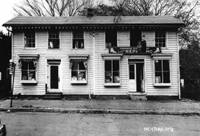 On Delaware street are three groceries, two millinery shops, another hotel and a restaurant, cigar/news store, barber, jewler, "fancy" shop and "tin shop." There's a non-electric barber pole outside of the shop on Clouds row. 113-115 Delaware which housed the tin-shop and a grocery c1880 had a shed roof which projected out to the street. Later on, with no shed, it housed another barber shop, now with an electric sign, and a shoe repair shop. The stables in the back in 1831 housed the horses of the NC&FT RR. It's now the site of a colonial revival duplex. The "Fancy" shop next to the Van Leuvenigh house then had two store front bay windows. These are now gone.
Ballast blocks from the NC & FT RR form sidewalks across the dirt and cobble stone streets.
The men and boys are all wearing hats, most of them derbies/bowlers. Most of the clothes are dark colored, except for the one man on the right with light colored pants, a vest and tie. Most of the men are wearing vests. The pictures were probably taken during cool weather, since like all of the stereographs, the trees are all leafless.