New York Historical Society Quarterly Bulletin, July, 1927
HENRI COUTURIER
AN ARTIST OF NEW NETHERLAND
By Charles X. Harris
The history of the artists of New Amsterdam is shrouded in such obscurity and lack of definite continuity that it is difficult to make many statements concerning their lives and activities. The earlest painters who came to New Netherland were Evert Duyckinck, who came in 1638, Jacobus G. Strycker in 1651 ; and Henri Couturier, of whom the earliest official record in this country is 1661, but who was doubtless here some time before, possibly as early as 1656. These with Gerritt, son of Evert Duyckinck, were the artists who painted portraits in New Amsterdam in the seventeenth century, who have left works by which they may be judged.
There were two others, students of the St. Luke's art schools, who may have painted in this country, but we know nothing of their work. One was Carrel Dbevois, first schoolmaster in Brooklyn, who reached New Amsterdam in 1659, after having received a classical education at the University of Leyden and art training at St. Luke's. The other was Hendrick Jansen Stuyvesant, a student at St. Luke's at Haarlem in 1642, who came to New Amsterdam in 1664 as a ship captain, but did not remain here.
Henri Couturier's parents were Hendrick Couturier de Onde (Senior), a linen draper, who went to Leyden from the "Land of Limburch," and Anne de Gand, who were married at Leyden in 1605. Hendrick Couturier the elder became a burgher of Leyden in 1638. The baptismal registers of the Walloon Congregation are incomplete at this period. They record the baptisms of others of his parent's children, but not of Henri, although he was undoubtedly born at Leyden. Hendrick Junior married at Leyden, January 8, 1648, Lysbeth Coppyn, from Velenchijn, then in Spanish Flanders, now Valenciennes, France. He is called in the marriage record a young man of Leyden, living on the Bierkay and a painter (schilder).
On November 17, 1648, when he and his wife, "Elyszbeth Coppin" made a mutual testament before a notary, he was called Sieur Hendrick de Jone (Junior), and is recorded as a grosgrain cloth manufacturer (groff greysnreder), living on the Cow Gate Canal (Coepoortsgracht). Henri Couturier Jr.s eldest son Henri, was baptized in Leyden in 1648, and his second son, Pierre, on June 12, 1650. On July 27, 1651, Henri Couturier received a certificate of dismissal from the church at Leyden, and removed to Amsterdam, where his twin daughters were baptized in 1654, and his son Jacques, on January 27, 1656.
How soon after that Henri Couturier departed for New Netherland we have not yet found. The earliest record of his being here is 1661, whe he was established as a merchant at New Amstel, the Dutch colony on the Delaware River. On November 22, 1662, three of his children, Isaac, Jacob, and Rebecca were baptized at the Dutch Church in New Amsterdam. If their baptism at the same time, instead of each one's being baptized soon after his birth, may be explained by their having been born at New Amstel where there was then on church, it follows that Couturier and his wife must have been living on the Delaware several years prior to 1661. He continued trading there for at least ten years, and became a personage of some importance in the colony. In December, 1663, he was a member of the Council of Fort Casimir and New Amstel, and as such signed the oath of allegiance to Great Britain, there and on the Hudson. His knowledge of affairs on the South River was recognized in 1671, when on October 5, the governor's council, fearing an Indian war there, appointed him one of two commisioners to the Delaware. On June 10, 1672 the Council decided to advise with him on Delaware affairs.
Court records show that between 1663 and 1668 he was often in New York and the numerous references to Mrs. Elizabeth Couturier, who had her own retail business there in 1663, seem to indicate clearly that he maintained a home in New Amsterdam, even while his trading took him often to the South river, and while he was an official at New Amstel. In 1669, he apparently settled more permanently in New York City. On January 24, he was elected a deacon of the Reformed Dutch Church, and was an officer of the school. On December 9, 1669 he bought a house and lot on High Street, east of Evert Duyckinck's house.
In 1674 during the second brief period of Dutch control, when New York was New Orange, Henri Couturier removed to England. His house on High Street was sold on Jun 30, 1674 by his wife, acting for him by virtue of a power of attorney. This would seem to indicate that he preceded her across the Atlantic. There is a record of his being in England on September 25, 1674. From 1678 to 1685, Mrs. Couturier acted as a godmother at baptisms in the Walloon or Strangers' Church in Canterbury. As she is referred to on July 8, 1683, as Madame Couturier, and on July 6, 1684 as Elizabeth, widow of Henri Couturier, it is evident that her husband's death occurred between those dates, and probably in England. His will and place of burial have not yet been found. His widow returned to New York, where she bought property in April and July, 1687.
It has not been ascertained as yet with whom or where Henri Couturier acquired the thorough training his work shows he must have had. His being called "painter" on his marriage record of January 8, 1648 indicates that he had studied painting prior to that date. When the St. Luke's Guild art school was founded at Leyden later in the year 1648, he became one of the first enrolled "original members", but his year of study there is not enough to account for his ability. Couturier's brush handling is somewhat bolder than that of his contemporaries in this country, and his impasto slightly heavier. His mosaic of brush strokes in the lights are quite clear, the edges of which soften in the adjoining color without being lost, leaving a fairly clear technique that is easily recognizable when compared to others of that period in New Amsterdam. His subjects are well placed on the canvas in good taste.
At present, all we know of Coutrier's portraits are three.
By the far the best is that of Olof Stevense Van Cortlandt (1610-1684),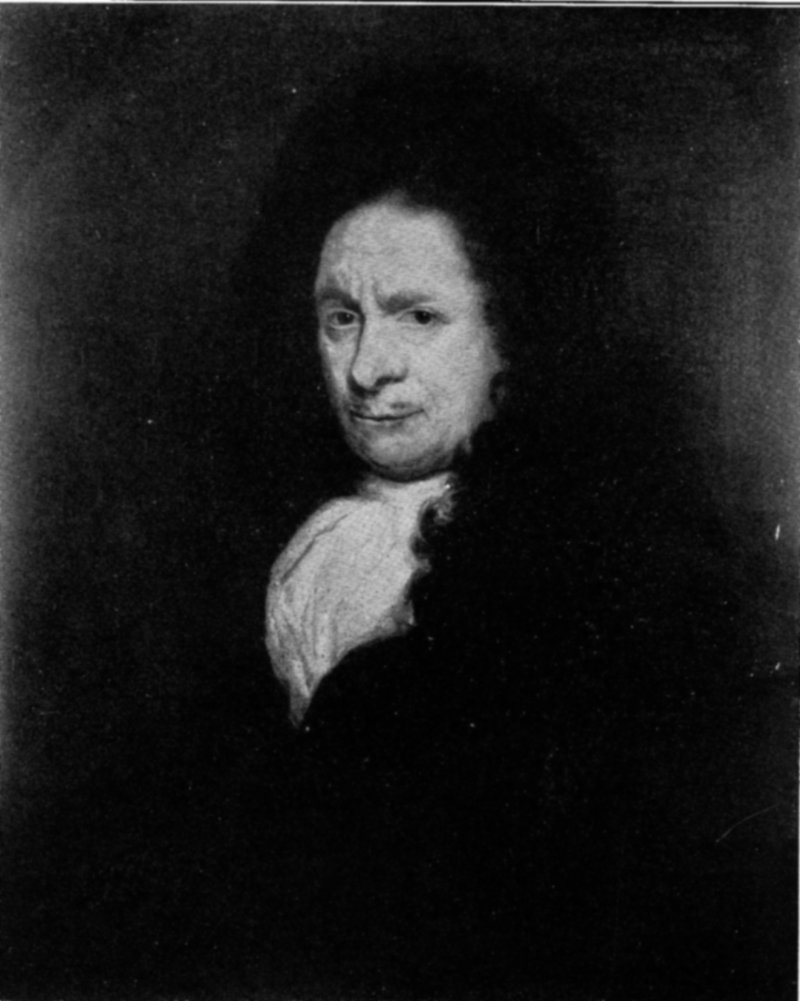 the founder of the family in America. It is a life size head on a canvas about twenty-five by thirty inches. It is searchingly characteristic of a strong personality. The head relieves against a dark background, a deep red cloak thrown over the shoulders of the man, the shadows of which melt into the background, leving the face and steinkirk in considerable relief. Both the man and the painting seem impressive. The portrait is signed by Couturier with his monogram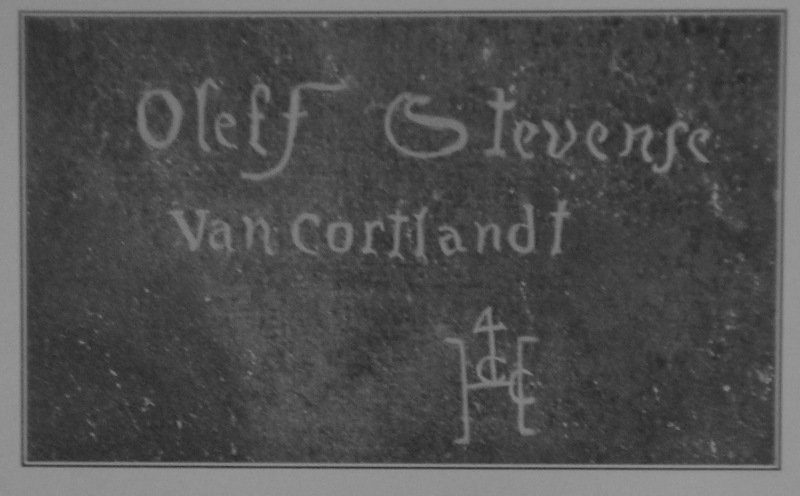 below the name of the subject, "Oleff Stevense Van Cortlandt." Couturier's inscriptions are in so thin a red as to be rather faint.
An interesting aid in identifying this monogram is an invoice of goods shipped in May, 1663, from Amsterdam in the ship St. Jacob to New Amstel on the South River of New Netherland. A package of duffels sent by Jacob Coettrier to Henrick Coettrier was marked with an almost identical monogram (Doc. rel to Col. Hist. of N.Y. XII, 428-429).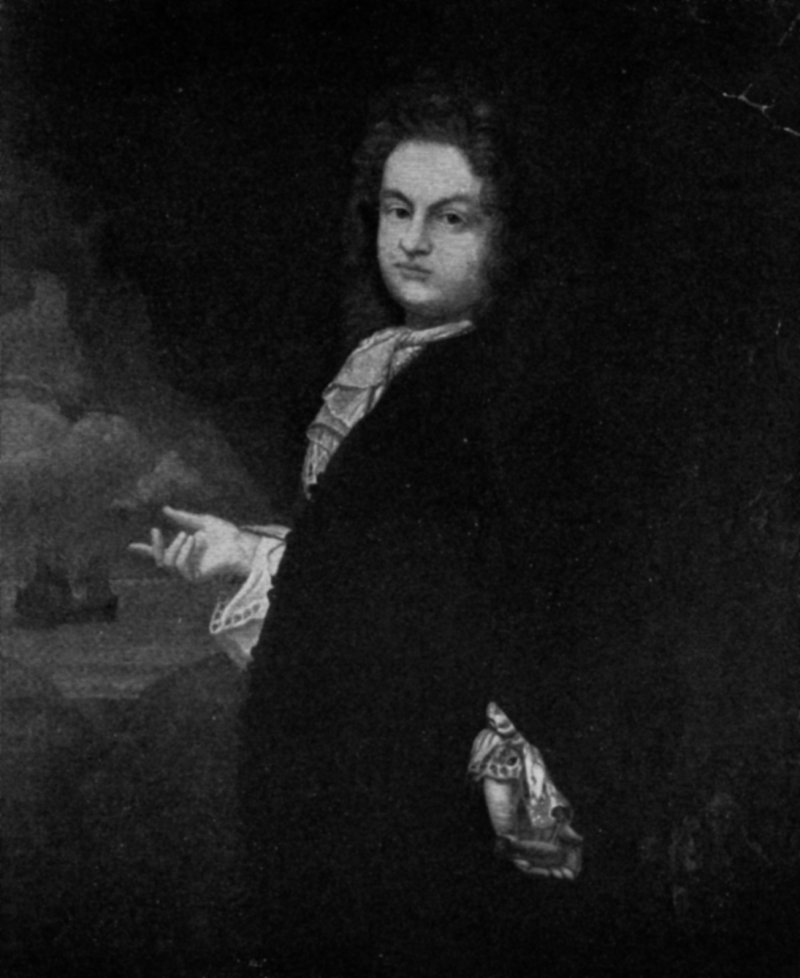 The second portrait is that of Frederick Philipse, (1626-1702), first lord of the Manor of Philipsborough. The inscription reads: "Vredrick Vlipse, New Orange, 1674," with Couturier's monogram.
It must have been painted during the first half of the year, as we have seen that Couturier was in England in September. This is a three quarter length figure, less than half life size, standing by a rocky cliff on the sea shore, with a ship under sail in the distance, and a cloudy sky, low enough in tone to give considerable relief to the head. It is a suitable composition for a shipping merchant. This portrait has suffered in the vigor of its handling through too frequent restorations.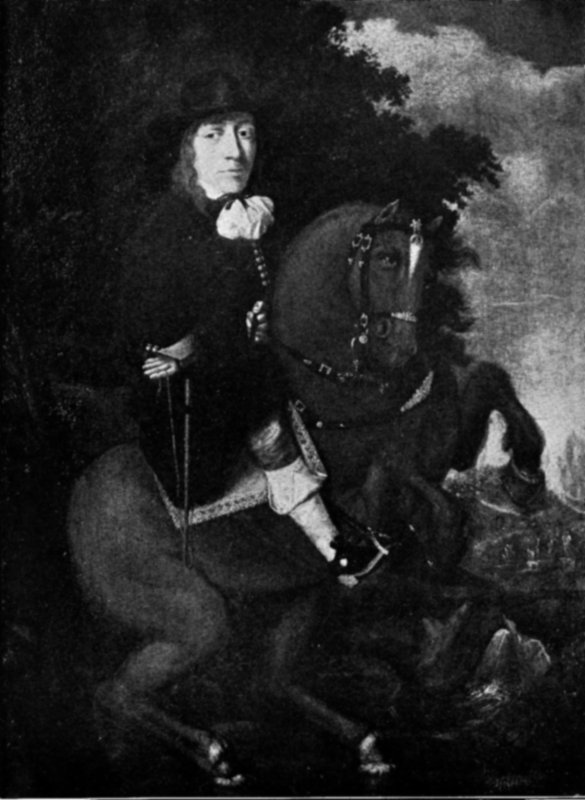 The third portrait which we attribute to Henri Couturier is that, owned by The New York Historical Society, of William Nicholas Stuyvesant (1648-1698), son of Governor Petrus Stuyvesant. It is a somewhat ambitious composition, unfortunately introducing a horse, which was beyond his capability. The animal is badly drawn, seems to be falling over towards the spectator, and is out of proportion to the rider. The man's head is fairly well painted, but it is so much too large for the figure, that it verges on caricature. Why Couturier was not able to get the various parts in proportion seems incomprehensible. Although some portions are well painted, it is difficult to take this portrait very seriously. Couturier's monogram does not appear on this third painting. What can be deciphered of the inscription is: Aetatis 17 Ano 1666.
There is an interesting contemporary record of a connection between Henri couturier and Governour Petrus Stuyvesant. On Jun 12, 1663, Mrs. Hendrick Coutrie appeared before the Burgomasters of New Amsterdam, who told here she must purchase the burgher right, since she was selling at retail. She replied that the Director General had give her husband the right, for which he had painted the portrait of His Honour and drawn pictures of his sons. (Minutes of Orphanmasters, and of the Burgomaster, I 176-177). Because of this statement, some critics have attributed the New York Historical Society's portrait of Stuyvesant to Coutrier, but this writer believes it to have been painted by Jacobus G. Strycker, as explained in his article in The Quarterly Bulletin for October, 1926.