Oral History: Hugh Ryan Jr. (12/13/1920 - 3/2/2002)
Video by Harry Keyser in 1984 with a grant from the Trustees of New Castle Common
Hugh George Ryan Jr. grew up in New Castle, attended public school in the Academy building, then the Arsenal and finally the newly constructed William Penn High School. He was the art editor in school. After graduation he was employed as an artist with the National Youth Administration. He served in the Army Air Corps during WWII. Shortly after returning from the war, he stopped near
Hotel Louise
, (later the David Finney Inn) to help two young ladies who had been pulled over by the one town policeman. Mabel, one of the young ladies, though only 16 at the time, became his wife in only a month. He and Mabel started working at the Dupont Experimental Station, he as a designer engineer, she as a secretary. They retired in 1979. In 1988, they moved to Ocala, Florida.
Hugh Jr. grew up in New Castle. As he described in
Men of Steel
, his grandfather James T. Ryan (also father of
John V. Ryan
) was killed in an explosion in the Tropenas Steel Co. (later American Manganese Steel) in 1909.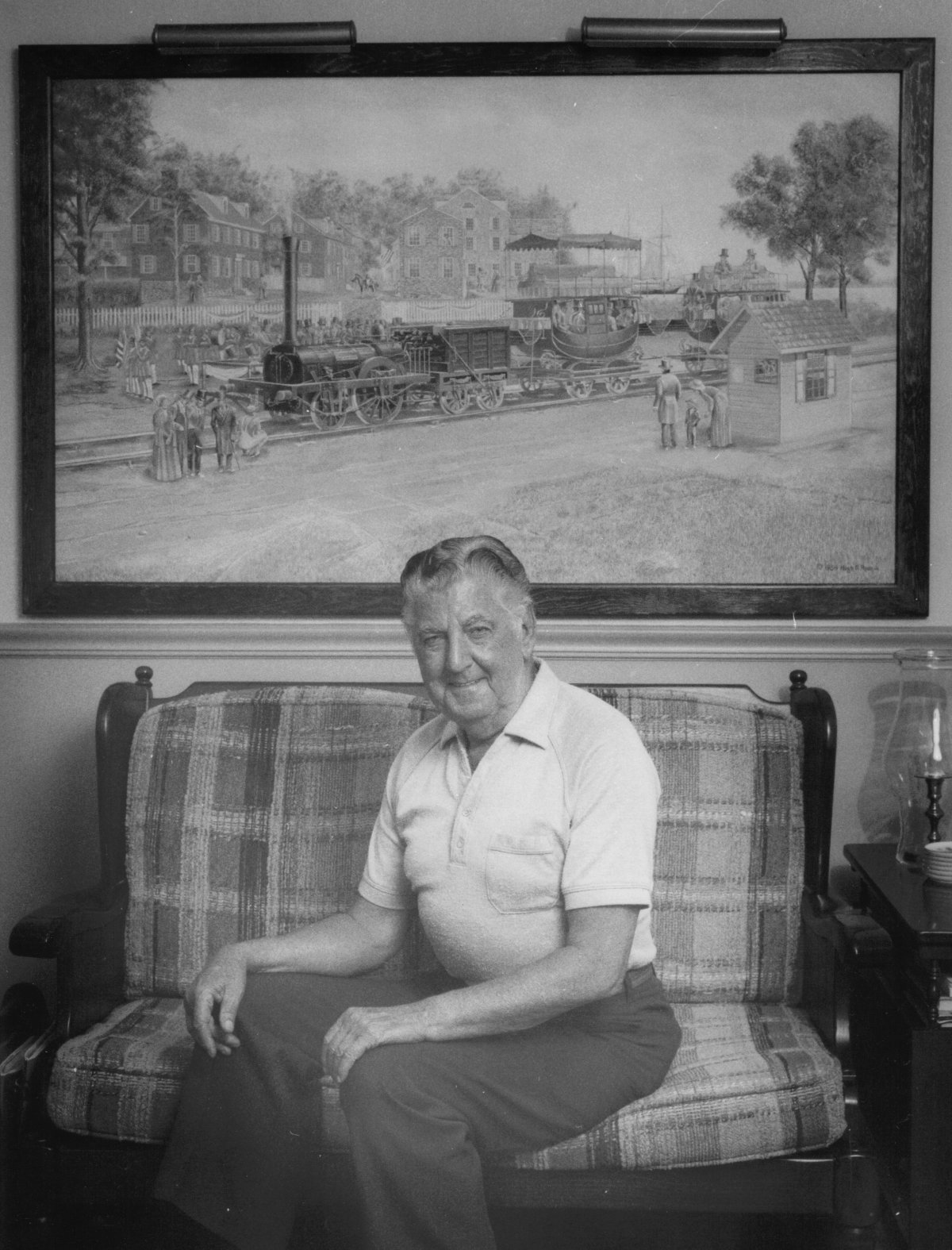 Hugh Sr. (January 1897 - July 1975) worked at Tropenas from 1913 to 1962. Hugh Jr. worked briefly in the plant against his father's wishes, but decided his father was right.
Hugh Jr. loved New Castle, its history and its waterfront and painting. He was able to combine these interests. His research on the New Castle & Frenchtown Railroad led in 1984 to an accurate and detailed 3 X 5 ft painting "New Castle & Frenchtown Steam Raliroad - Opening Day - September 10, 1832" and an article published in the New Castle Eagle in Aug. 1985 describing the railroad. The oil painting was shown at the Old Library in 1985 then hung at the entrance to his home. Lithographic copies were produced.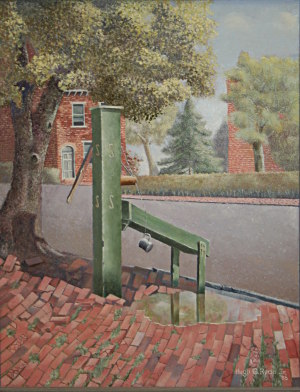 Ryan painted waterfront and historical scenes, including one of the 40 public water pumps that once provided needed water to the public. He recalls his mother telling him to never use the tin cup that was attached by a chain to drink, though he did use the water to pour over his head in the summer. This pump at 2nd and Chestnut was across from the Ft. Casimir site.
Ryan was interested in sharing the town's history. He sought in 1985 to have the Trustees of New Castle Common permit the constructions of a visitor center and reconstructed fort on the site of Fort Casimir. He was interested in where the fort was actually located "on the high ground". In the video available via the link at the top of the page, he discusses the Bull Hill area and the finding of human remains from a presumed cemetery. The city had spread dirt from Bull Hill as fill for leveling and blacktopping 3rd street during his high school years .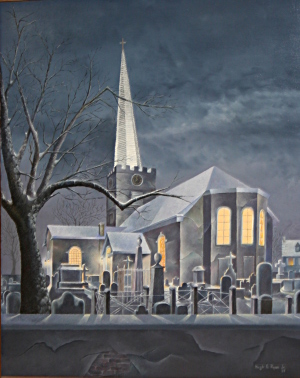 His picture of Immanuel Church is from an unusual angle and with unusual lighting! Hugh was interested that Caesar Rodney, George Read, and Thomas McKean, the three signers of the Declaration of Independence from Delaware, had New Castle connections and had attended church there.



Photographs of the original paintings by Karen Berg
Information courtesy of Mabel Ryan