Chapter 1 -- Beginnings
In order to accurately chronicle the history of St. Peter's New Castle, we must first trace the movement of the Catholics who founded that church. Catholics did not just spring up in New Castle. They arrived here from various starting points.
The first recorded Catholics in the colonies came across the Atlantic on two ships - the Ark and the Dove. These ships were commissioned by Lord Baltimore of England and were headed by his brother, Leonard Calvert. In 1634, these "papists" landed in Maryland and the first Mass was celebrated on New World shores by the Reverends Andrew White and John Altham. In no time at all the new colonists erected a settlement, calling it St. Mary's.
These Catholic colonists had migrated to this country with the hope of fertile ground, fresh worlds to conquer and freedom to practice their religion. The ground did indeed prove to be rich, an ideal growing area for tobacco. Each day brought a new adventure and, for awhile, they found no difficulties in practicing their faith.
But problems developed. Neighboring Protestant communities maintained old, ingrained prejudices against the residents of St. Mary's. They resented the popish intruders, formulating laws within Maryland's boundaries that prohibited Catholics from holding public office. Eventually, the Protestants, being the majority, passed a statute prohibiting Catholics from worshiping in public.
In addition to the growing religious persecution, the farmers and plantation owners of St. Mary's were finding it increasingly difficult to raise a good crop. Imprudent planting of tobacco had overworked the soil, draining it of precious, necessary nutrients. It was time for some of the Catholics at St. Mary's to move on.
Virginia's laws in relation to Catholicism were even worse than Maryland's. But in searching for a new land to settle, the Catholics of Maryland found Pennsylvania and Delaware to be havens of religious tolerance. As part of the tract granted to the Quaker, William Penn, the . northern end of the Delaware colony with its lush rolling hills of woods and farmland, was particularly desirable.
Exactly when the exodus from Maryland began is hard to pinpoint. At the outbreak of the Revolutionary War there was some evidence of Catholics in the Mount Cuba area at Coffee Run in Delaware. As early as 1742, Mass was celebrated at Mount Cuba at the home of Cornelius Hallahan.
There were Catholics on the rivershore town of New Castle in 1766 as revealed by the diary of Fr. Robert Harding of Philadelphia. On February 8th of that year he baptized John Burton, 9 years old and,his parents John and Esther Burton. Also in New Castle that day. Fr. Harding baptized James Leaman, 1 year old son of Thomas and Esther Leaman.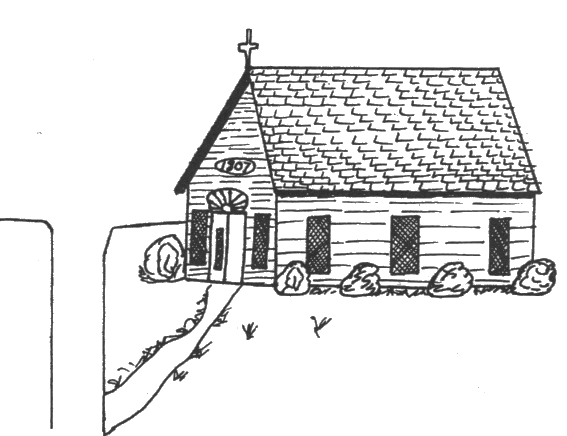 >In 1785, a log cabin was erected at Coffee Run and was christened St. Mary's of the Assumption. Delaware had its first Catholic Church.
For several years, St. Mary's at Coffee Run had no permanent priest to administer to the needs of the communicants. The French alliance and the presence of French troops in the area during the Revolution gave increased prestige to Catholicism however, and French priests from San Domingo arrived in the colonies to preach the Word, but they were scarce.
After the War, French and Irish immigration swelled the number of Catholics in the Wilmington area. Many Irish Catholics came to the Delaware area as indentured servants, landing at New Castle to be sold at auction. A permanent pastor was needed badly for Delaware's northern county. The diocese of Philadelphia supplied Father Patrick Kenny.
Father Kenny is something of a legend in the Wilmington area for the care that he gave both to his own flock and to the people of northern Delaware whether they be Catholics or protestant. Born in Dublin County, Ireland, he was educated at the seminary at St. Sulpice in Issy, France. Nothing else is known of Father Kenny until he stepped off the boat in America in 1804. Almost immediately he was dispatched to the Coffee Run church of St. Mary's from whence he labored diligently for 35 years to spread Catholicism.
Most of what we do know about Father Kenny has been gleaned from diaries that he kept all during his years of service to the Wilmington area. He was rather a short man but robust with a severely ulcerated leg which often made it impossible to stand even long enough to say Mass. Biting sarcasm and dry wit show in his writings along with the blunt determination of his Irish heritage. That same determination held him in good stead for the many years that he was virtually the only priest in northern Delaware.
One of Father Kenny's first ecumenical acts was to say Mass for the first time in New Castle in 1804. For several years thereafter, New Castle remained a preaching station with no resident pastor of its own.
Chapter 2 -- Growing pains
In 1806, New Castle was the political hub of Delaware and more important economically than Wilmington. A collection taken from the fledgling parish of St. Peter's in that year amounted to $6.25. The trustees decided that it was time to build a church. On April 15, 1806, a building site at Union and Harmony Streets was purchased for $350.00 from Samuel Rowan. This is the same land that is presently occupied by St. Peter's Church.
Little is known of Samuel Rowan. He married Polly Penton, a Port Penn native, in New Castle on February 5, 1795. He was in business, but the nature of his business is uncertain. Of other known Rowan's of the time, all were associated with the Bancroft Mills in the manufacture of cloth.
In 1807 a wooden chapel was built, initiated by Father Kenny. Very soon after, a small brick building replaced the chapel, largely through the efforts of Bernard Murphy.
Bernard "Barney" Murphy was an influential citizen and owner of the "Cave Inn" in New Castle. As such, Mr. Murphy occupied a rare position for the times. Not only was he a man of means, he was a Catholic -the two were almost contradictory. Bernard Murphy married Mary McCullough, a New Castle girl, in 1822. Their son, Joseph, became a well-known Catholic publisher and bookseller. Barney Murphy died in New Castle on April 7, 1849 at the age of 70. It is interesting to note that on February 3,1808, the State Legislature authorized a lottery to raise a sum of money not to exceed $2,000.00 to help in the building of St. Peter's Church. John Bird, John Janvier, Samuel Barr, James McCalmont, and Evan Thomas, all Presbyterians and community leaders, were appointed as managers. This action by the legislature was laudatory but from all accounts, nothing became of it. The state legislature became involved with the building of St. Peter's because the church became enmeshed in financial difficulties. Possibly the reason for the state's eventual non-involvement came , about because the trustees sold the property at public auction - and bought it back themselves for $230.00. These crafty trustees were: John Moody, Martin Kennedy, Hugh Rogan, Paul Barr, James McDermot, Daniel Reed and Bernard Murphy.
Some history is available on the Presbyterian men who helped to bail St. Peter's out of its financial problems. Samuel Barr was the pastor of the New Castle Presbyterian Church, having been ordained on March 6, 1791. He married twice; first to Margaret with whom he had 7 children, the most notable being the Rev. Joseph Barr. Then, in 1815 at the age of 53, he married Eliza Van Leuvenigh Bird, widow of his friend, John Bird. Samuel Barr died at the age of 90 in New Castle on December 27, 1828, survived by 80 children, grandchildren and great grandchildren.
John Bird married Eliza Van Leuvenigh in 1795. They had several children, one being a daughter who married Senator Kensey Johns Jr. Mr. Bird was in partnership in the Riddle and Bird Company, a large merchandising store on Water Street in New Castle. John Bird died at the age of 42 on April 10, 1810.
Evan Thomas and John Janvier were both prominent citizens and members of the New Castle Presbyterian Church. Mr. Thomas was a banker and Mr. Janvier was a lawyer.
James McCalImont was a doctor who served the town of New Castle. He fought in the Revolutionary War, ran for sheriff in 1791 and formed the short-lived "Patriotic Society" in 1792. He married New Castilian Martha McMullen. In 1824 when Dr. McCallmont died, he owned large landholdings both in New Castle and the rest of Delaware, including an entire section of New Castle known as the "Bowery".
Once St. Peter's overcame her initial financial problems, work on the church progressed. In April of 1808, new trustees were elected, these being Daniel McArthur (a tailor), John Mundall, Martin Kennedy, Daniel Lafferty and Michael Naegle.
Pews were built and rented and an altar installed. A July 25, 1835 account book shows that 20 pews were made for the church by Soleman Brogan at a cost of $48.59. Pews could be rented in its entirety or, if one did not have a family, a seat alone could be leased. The pews were numbered and even within the Church superstition reigned, for pew number 13 was seldom rented.
Apparently it was a stop and go proposition in completing the church, but it was indeed finished. Conflicting stories would have us believe otherwise. According to the recollections of Joseph Henry Rodgers of 1905 - "I recollect a Catholic Church when I was a boy. There used to be a building there they called the chapel and it was walled and roofed in and no floor in it and no windows in it. It was never finished ... It was right on the corner of Union and Harmony Streets on the southerly corner."
This quote, by someone who actually remembers the original church, is at variance with other written accounts. It is presented here only to give one New Castilian's opinion.
The little brick church that Barney Murphy helped to build was used for over sixty years. Father Kenny served as pastor until 1828 when Father George A. Correll and later Father P. Reilly served the needs of the parish.
By 1832, there were 120,000 Catholics in the Philadelphia diocese and few priests to administer to them. Not only were the numbers growing, the area was so large that it was very difficult for a parish priest to travel the distances within his own parish. In 1839, a seminary was opened in Wilmington at 5th and West Streets to train priests to help carry the load. By 1868, when the Wilmington Diocese was created, there were 3,000 Catholics in the large new diocese alone with only 8 priests to serve them.
In 1854, Father Cobbin was resident pastor at St. Peter's and he was succeeded by Father Cajetan Sorrentina in 1864. In 1866, the parish which included Delaware City as a mission, saw Rev. B.A. Baumeister and then Rev. George Borneman assume the duties of pastor. In rapid succession the following priests came and went: Rev. E.A. Connelly, Rev. John Daly, Rev. Benjamin J. Keilly, Reverand Francis J. Rebman and Rev. Edward L. Brady.
In 1888, when Thomas Scharf surveyed St. Peter's parish, there were 150 families in communion. It had grown tremendously since its 1804 birth.
Part of that growth was due to the influx of Italians arriving in this state from Abruzzi, Italy. Eventually the parish names would reflect an almost 50/50 make-up of Irish and Italians.
Chapter 3 -- The Church
As the town of New Castle grew, so did the number of Catholics moving into the community. By 1870, the parish of St. Peter's had outgrown the little church on the corner of 5th and Harmony Streets. Reverend John Daly, pastor at the time saw the need and directed that the present brick church be built to accommodate his burgeoning flock. Work began on the property immediately adjacent to the old church.
On May 27, 1876, members of the congregation, led by the Ancient Order of Hibernian Knights, met in a downpour of rain at the old church building to march in procession into the new St. Peter's Church. There they were met by the Cardinal of Baltimore for the consecration of Father Daly's dream - a dream he did not live to see completed. Reverend John Daly died on September 5, 1874 and is buried under the present church.
In 1877, the rectory was finished, providing a permanent home for St. Peter's pastors. Before that time, the priests had lived in a house on 4th Street.
The next major changes came under Reverend Ed Brady. Father Brady came to St. Peter's in 1884 and found a $10,000 debt on the church. He worked unstintingly to pay that off and apparently was successful for later, Father Brady saw fit to refurbish the church with new carpets, candelabra and lights and "Costly altar appurtenances". Then, to finish the job, he had the building painted, inside and out. Next a belfry was added to the church and on September 27,1896 a new bell was consecrated by Bishop Alfred A. Curtis assisted by Reverend John D. Sheehan. The Bell was named "John" and was presented as a memorial to Father John Daly.
Extensive rebuilding was undertaken again after the turn of the century under Reverend Frederick Campbell. Prior to the renovations, the stairs to the church proper led out of a small entranceway and wound up on either side of the outside walls. After the rebuilding, parishioners were able to use the grand staircase that we use today.
Once more the church was consecrated, this time on November 26, 1911 by Bishop John J. Monaghan. To celebrate, a procession was held by the school children and the Hibernian Knights.
Since 1911, many minor alterations have been made to the interior of St. Peter's church. Pews have been changed, colors have varied on the walls and ornamentation near the altar has changed with the times. Most recently, the elaborate high altar was removed and a new, simple altar installed in conformity with the new liturgy.
The building that houses a congregation can change many times or even move its location. It can be built of logs, or bricks or of frame construction. But one important fact remains constant and that is the security and comfort that the church building represents. From its inception, the parish church of St. Peter's has filled that need.
Chapter 4 -- Acquiring Room To Expand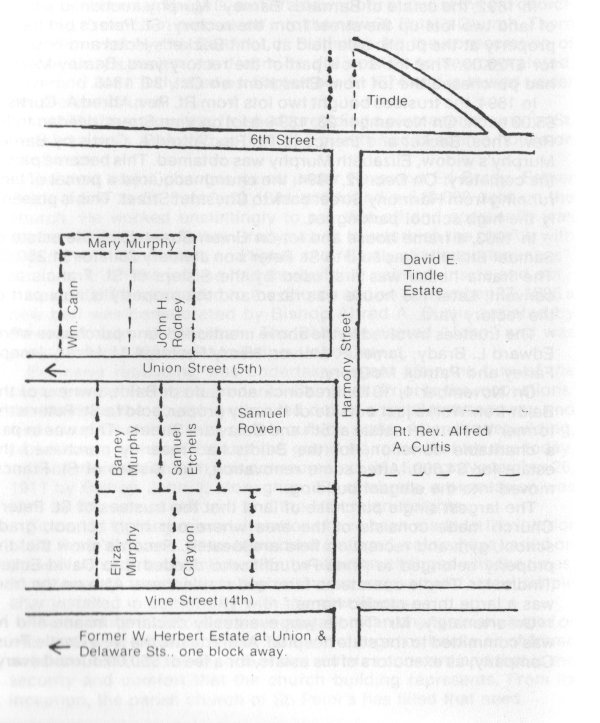 As mentioned earlier, the property for the original cemetery, church and rectory was purchased in 1804 from Samuel Rowan. Since then, the trustees have increased the land holdings with nine more purchases.
In 1890, two lots were bought from William H. Cann on July 15th and one next to that parcel from John H. and Annie D. Rodney on June 27th. The total cost was $1,680. This is the property directly across from the rectory and yard which was used to build the original elementary school on. Much later, a narrow strip of land across the back of the property was donated by Mary Murphy.
In 1892, the estate of Bernard "Barney" Murphy auctioned a parcel of land two lots up the street from the rectory. St. Peter's bid for the property at the public sale held at John Becker's Hotel and bought it for $720.00. That lot is now part of the rectory yard. Barney Murphy had purchased the lot from Elias Kent on Oct. 21, 1848.
In 1894, the trustees bought two lots from Rt. Rev. Alfred A. Curtis at $5.00 each. On November 23, 1894, a lot on Vine Street, deeded to Rt. Rev. Thos. Becker and thence to Rt. Rev. Alfred A. Curtis by Barney Murphy's widow, Elizabeth Murphy was obtained. This become part of the cemetery. On Dec. 12, 1894, the church acquired a parcel of land running from Harmony Street back to Chestnut Street. This is presently the high school parking lot.
In 1903, a frame house and lot on Union Street (5th) the estate of Samuel Etchells was sold to St. Peter's on January 26thfor $1,250.00. The frame house was first used by the Sisters of St. Francis as a convent. Later the house was razed and the property is now part of the rectory yard.
The trustees involved in the above mentioned land purchases were: Edward L. Brady, James F. Mclvor, Henry Foster, A.M. Hizar, Joseph Farley and Patrick McGrory.
On November 1, 1912, Frederick and Lulu J. Baldt, owners of the Baldt Iron Works just outside of the city proper, sold to St. Peter's the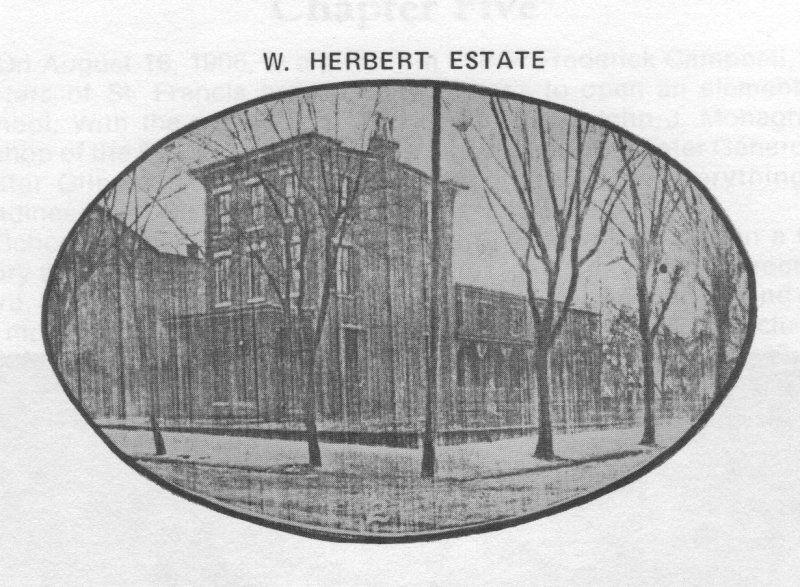 former W. Herbert estate at 5th and Delaware Streets [site of the current NC Library]. This was in part a charitable donation, for the Baldts had recently purchased the estate for $4,500. After some renovation, the Sisters of St. Francis moved into the elegant building.
The largest single purchase of land that the trustees of St. Peter's Church made consists of the area where our high school, grade school, gym and recreation field are located. Records show that the property belonged to Anna Proudfit who deeded it to David Eckert Tindle. Mr. Tindle operated a farm and stable there. Also on the tract was a large three-storied home.
Unfortunately, Mr. Tindle was eventually declared insane and he was committed to the state hospital. At his death, the New Castle Trust Company, as executors of his estate, for a fee of $50.00,turned everything over to his heirs. They in turn sold the property to his heirs on June 14, 1933 to the city of New Castle. St. Peter's bought the Tindle estate from the city. The purchase comprises 51/100ths of an acre, discounting the triangle between 6th street and the Ferry Cutoff which is also part of the property.
The most recent addition is the Clayton property. This land which contained the former Clayton's store is directly behind the church facing 4th street and is now part of the cemetery. It was bought in 1980.
Chapter 5 -- The School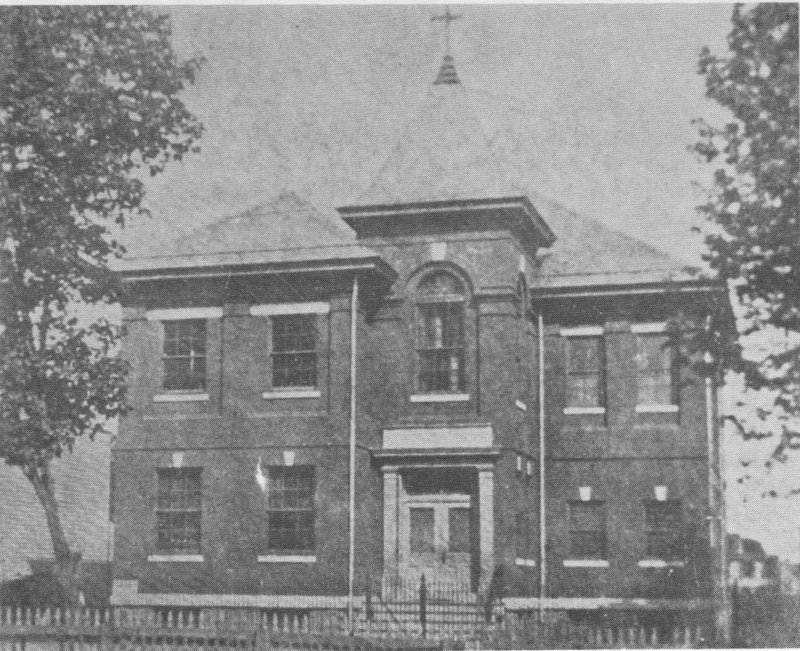 On August 16, 1906, at a plea from Father Frederick Campbell, the Sisters of St. Francis arrived at St. Peter's to open an elementary school. With the permission of Most Reverend John J. Monaghan, bishop of the Diocese of Wilmington, Sister Secunda, Sister Generosa, Sister Gilberto and Sister Leonida labored to have everything in readiness with Sister Charlotte as their first Superior.
School opened on the first Tuesday of September, 1906 in a two story brick building erected directly across the street from the rectory yard. On the first day 137 pupils were registered and on the second day 20 more enrolled making a grand total of 157 students. This included all of the children of the parish except two. On November 4, 1906, the school had its first Communion Class with 42 children receiving their First Holy Communion.
The first Annual Entertainment, forerunner of Graduation ceremonies, was given in the New Castle Grand Opera House on Delaware Street in June of 1907. According to Sister Charlotte in the House History, "The large audience enjoyed the efforts of the children and Father was delighted with the financial results.
Prejudice runs deep and rears its ugly head in unexpected places. In January 1909, a negro boy was admitted to school. Immediately, 15 pupils from different classes were withdrawn by their parents. It had not been so very long since the end of the Civil War and feelings still flared occasionally. Acting upon advice from the Vicar General Lyons, Father Campbell dismissed the boy. All of the children returned except one.
The first certificates of graduation were awarded at the Third Annual Entertainment in June 1909. Graduates were: Thomas Leonard, Anna and Greta Toner, Veronica Atkinson and Greta Shearer.
On December 11, 1912, the sisters moved into a much needed new convent, the former W. Herbert Estate at 5th and Delaware Streets, one block away from school.
In September 1915, the school needed a typewriter for the commercial class. In order to raise the necessary money, a$2.50 gold piece was successfully raffled off. As is so often the case, the Ancient Order of Hibernians heard of their plight and donated a second machine. Not to be outdone, the Temperance Society donated $20.00 for the purchase of books.
In 1916 an unnamed epidemic delayed the opening of school for a couple of weeks, but the Flu Epidemic of 1918 caused a much greater problem.
St. Peter's School opened as scheduled on September 16, 1918. Word has been circulating of a "Grippe" epidemic in the state, but it had not yet reached New Castle, although thousands of people had already been attacked.
On October 3rd, a notice was received by Father Campbell from the Board of Health to close the school until further notification. Within two weeks, New Castle was hit hard by the "grippe". So numerous were the patients that medical attention could not be obtained for all.
To help in the crisis, St. Peter's School was converted into a hospital with twenty-five beds installed and a sign over the door that read "Emergency Hospital - Parochial School". Under the direction of a Nursing Sister from St. Mary's Hospital in Philadelphia, the sisters of St. Peter's and other Wilmington convents cared for the i11 . Twenty three patients were received and all but two recovered, mainly due to the ministrations of the good sisters. Before the epidemic died out, two of the nursing sisters also became ill, but recovered.
Enrollments continued to increase each year and in 1920 the ninth and tenth grades were added in a wing built onto the grade school. In 1929, the school was renovated and in 1930 Father Charles Crowley became pastor of St. Peter's.
Always intensely interested in the education of the parish young people, Father Crowley strove for and obtained more courses and more accredited teachers, making St. Peter's a State of Delaware accredited four year high school in 1931. In 1932, he enlarged the school once more, adding two more classrooms and a Chemistry Lab.
Lack of space was clearly a problem. Father Crowley perceived this and began working towards a High School building. On November 13, 1949, Father Crowley was awarded the title Right Reverend Monsignor in recognition for the work he had done in the field of education at St. Peter's.
In September of 1951, St. Peter's High School opened its doors in its own building at 5th and Harmony Streets. The modern new "Plant" held four classrooms, two offices, a science lab, a library, a nurses office and a large basement auditorium.
The picture was not as bright with the grade school. Antiquated heating systems, old wooden framing and lack of fire escapes in the two story structure were quickly making it obsolete.
In the late 1950's a large, gymnasium was built directly behind the high school. At the time, it was touted as having one of the best basketball courts on the East Coast.
By 1960, under the direction of Father Andrew White, a new, modern grade school and convent were being erected on the same property. Until that time, the sisters had made their home at 5th and Delaware Streets, the site of the present library.
Moving day was quite an experience for the sisters. For one reason or another, little help was given to transfer their belongings to their new lodgings. A van was provided to move the very large items such as beds and tables, but no one thought of the many smaller, personal items, such as clothing to be moved. But the sisters were resourceful. Buckets were commandeered and pressed into service and the Sisters of St. Peter's trooped back and forth between the old convent and their new home two blocks away with their belongings in buckets!
In 1965, the sixty year old grade school went the way of so many unused but architecturally interesting buildings. It was razed to make room for a parking lot for the Church.
By 1968, although the grade school was prospering, the high school was in financial difficulties. Only 75 students were enrolled in the high school that year. Other high schools had opened in the Wilmington area siphoning off enrollment. Finally. on June 12, 1970, formal closing of St. Peter's High School took place with students being transferred primarily to St. Marks, St. Elizabeth's, Padua, Salesianum and William Penn.
Chapter 6 -- Notable Facts and Firsts
`
Since St. Peter's of New Castle has been a parish since 1804, it is safe to assume that baptisms, marriages, etc. were performed right from the beginning. We have already mentioned a baptism as early as 1766. Unfortunately, the records do not start at the start. The earliest data in the parish books is dated 1860.
On October 16, 1860, baby Mary Alice McLeary, daughter of Samuel and Mary Ann McLeary, was baptized by Father John Daly. The early baptismal records are entirely in Latin and therefore difficult to read at times. The McLeary's were not originally New Castle residents. The first recorded baptism of an infant born to parents both of New Castle ocurred on October 2, 1881. The child was a boy, Julian, born to Edward and Marcella (Weldin) McCue.
The first marriage on St. Peter's books was performed by Father George Borneman on October 14, 1866. A dispensation was required and obtained for Maria Burris, a Catholic, to marry John Langston, a Protestant.
On June 25, 1919, John Keenan married Elizabeth McCafferty in St. Peter's. John had been born to John F. Keenan and Ida Keenan and was baptized on January 28, 1883. Thus, according to our records, John Keenan was the first parishioner to be both baptized and married at St. Peter's. Remember, these facts are only the recorded information that we have.
History books have stated tht New Castle was primarily a Dutch and Swedish settlement, but the lists of families in St. Peter's by the middle of the 1800's paint an lrish picture. Family after family gave "Hibernia" as their prior residence.
Many of the names we recognize as parishioners today go all the way back to the early roots of St. Peter's. Murphy, White, Hartnett, Keenan, McPike, Doherty, Gallagher, Gunning, Collings, McCann, and McHugh appear in the year 1867.
By 1883, the lrish were even more firmly entrenched in New Castle. The following family names were mentioned: Reynolds, Taylor, McGinn, McNulty, McGroary, Becker, Maloney, Lawler, Willis, McDevitt, Hance, Leonard, Carlin, Ross, Smith, McCloskey, Finnegan. Madden, Owens, Toner, Duffy, Galloway, Lenoir, Dorris, Tobin and Gilkie.
In 1887, Klingemeyer, Ryan, Sullivan, McDaniels, Connor, Tidwell, Gott, Burris and Sheridan appeared in the records.
In 1887, the first Italian families moved into St. Peter's. The first mention comes with the baptism of Jacob Joseph DiMatteo, son of Franciscus and Maria DiMatteo on Dec. 27, 1887.
Interment records show Eddie Rogers, aged five, as the first parishioner to be buried in St. Peter's cemetery. Eddie died of pneumonia and was buried on January 30,1889. The oldest tombstone that could be found, however is much older. It belongs to Catherine Laghey, wife of D...Laghey, native of Ireland, County of Tipperary, parish of Thurlisy. Died Aug. 21, 1825. aged 28, also Mary and Elizabeth their children.
Although I list Catherine Laghey as the oldest tombstone in St. Peter's cemetery, there may be older ones. But time and the elements have erased the names on many of the stones. According to Frank R. Zebley in his "The Churches of Delaware" published in 1947 - "The oldest tombstone that the writer could find is dated February 27, 1823."
The Organ - The beautiful organ in the choir loft of St. Peter's church is worth particular mention. Installed when the church was built, it is now over one hundred years old. Hook and Hastings, nationally prominent organ makers, manufactured the pipe organ, surrounding it in a free standing case. It is considered a tracking action organ. One rare feature, not seen in other organs, is a set of custom made tuners for a section of pipes in the swell division.
Only one change has been made to the organ since it was first put into place. Originally, it was pumped by hand by a tireless congregation member. Apparently that became a problem. Around the turn of the century, an electric motor was installed in the basement to assume that task.
When new, the organ was priced at approximately $700.00. Today, it is appraised at one hundred times that amount. Still providing excellent music for the congregation of St. Peter's, it is a priceless bit of antiquity.
The Windows - There are 24 stained glass memorial windows in the church of St. Peter's of New Castle. From all accounts this is the second set that has graced the building, but no one seems to know when the first set was installed or what became of them. At any rate, the windows now in place were donated sometime around 1940. There are five windows on the right wall, four on the left wall and three behind the altar. In the choir loft there are three stained glass windows and the vestibule containes nine small ones near the ceiling.
=====================================

Why write a history of St. Peter's? What have you accomplished
when it is done? These questions were asked of me when I first started
this project and at the time, I had no answer. Now, at the end of my
writing, I know exactly why a history needed to be written.
St. Peter's has a lot to be proud of. This is not merely a recording of
notable dates. This is also the history of men and women who
struggled to maintain the church and parish. A lot of those early
parishioners have families still living in the town of New Castle and
still attending St. Peter's. I think that is worth knowing.
History not only shows us how something happened, it also tells us
why and if we read carefully, a history can point out to us what that
portends for the future. St. Peter's has had an interesting past. By
instilling that information maybe we can engender a great deal of pride.
With pride in our church, we can look forward to an even greater future.

Patricia Austin DiSabatino


This pamphlet (which is available from St. Peter's Church) also includes chapters 7, 8 and 9 titled: Organizations, Those Who Serve, and Looking Forward
=====================================
James L. Meek '08