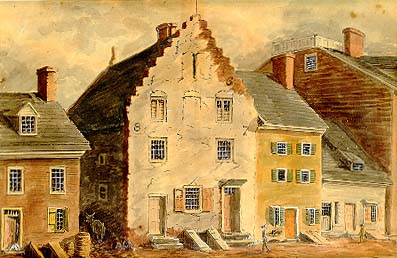 Bird 1822? 1826? Univ. Pennsylvania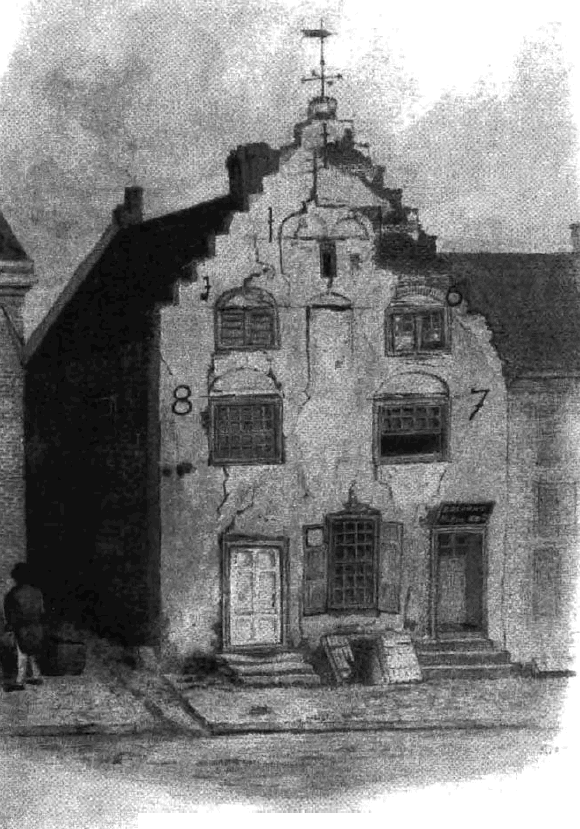 Edward Williams Clay, 1822, Courtesy New Castle Historical Society
Click on photograph to enlarge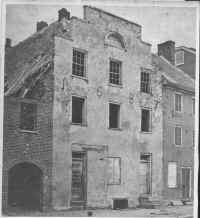 1884 -- just before its destruction
Courtesy Carol Maltenfort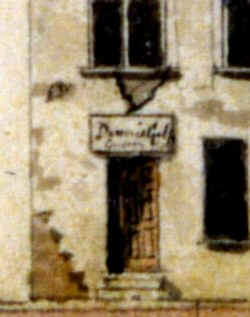 Was it build in 1687? What about the numbers in the wall?
There are opposing view on date the building to 1687 based on the numbers that are seen in drawings and photos from 1822 to 1884. Harper points out that they are not shown in the Latrobe Survey of 1805, and may have been added during a renovation between 1805 and 1820. Maynard suggests that Latrobe may have just not included them. Given the quite small details he included elsewhere -- such as the signs above the door on the Tile House (see below) and Hotel and Delaware signs on the Gunning-Bedfore/Caleb Benett house it seems strange that he would not include the much larger numbers. However, as Maynard points out, it also seems strange that they would be added between 1805 and 1822 "as an antiquarian exercise to an old, somewhat decrepit commercial structure" when interest in "colonial architecture was at its lowest ebb, with even major public buildings being demolished without comment or qualm".
Appearance just before destruction in 1884; Where's the tile?

"Dutch tile" could refer either to a tile roof, or to the yellow bricks, which are smaller than standard red brick. The photograph (see below) taken in 1884 show that at least after the renovation at the beginning of the 19th century, the roof was wood, the facade a single layer of standard brick, and the walls the normal two courses of standard brick, not the thick structure of local lore. Maynard (p 150) quotes a refernce to English houses of Dutch yellow brick clinkers which had been used as ballast. The late Ned Heite (d2005) stated "Yellow "Dutch" bricks are commonly found in Swedish and English sites of the early seventeenth century, as well as on Dutch sites. In the town of New Castle, they often are found during construction work. Fort Casimir was supplied during its first years with brick from Albany. Up the Delaware River, on Tinicum Island, similar hard, yellow bricks have been found at the site of the Swedish governor's mansion, Prinzhof. The Prinzhof bricks are complete, so that length can be determined. In width and height, they match the Fort Casirnir specimens. In spite of their common designation as "Dutch," small yellow bricks are too common throughout the Colonial seaboard to sustain a national attribution without further documentation".
In any case, after the removal of the house's foundation in the 1930's, local workers dumped much of the rubble (including the bricks) into the river and at the site of the current garage at the end of Harmony Street (statement of one of the workers to C. Maltenfort).
Original and early use
Who lived there? What was it used for?
In the 1805 Latrobe drawing, there is a tiny barely legible sign over front door. Maynard suggests it might read "something like " Dennis Gall/ Grocer". Company is another possibility for the second line. Looking at all the D... C or G... in the 1800 and 1810 federal censuses for New Castle only reveals one likely possibility, a David Cxxxx who was listed on the same page as George Read Esq [II], George Read Jr.[III], Doct Couper, Thomas Bond, John Janvier, Thomas Janvier, Wm Darby, John McCoy, David C???, James Riddle, Caleb Bennett, and therefore probably lived on or near The Strand.

1810 Federal Census entries