A more likely explanation for the latter is the warehouse
shown
on the Jefferson Wharf in the 1879 chart of the harbor and the
1868 Beer's Atlas map
. The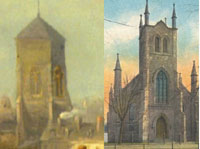 Presbyterian church tower design is similar to that shown in a turn of the century University of Delaware Post Card Collection picture, though different in scale and elevation.
The Moran painting's point of view appears to be just offshore of the Harmony Street Wharf. The
1879 chart
shows that there were ice piers built in 1803 and 1837 in this area, and comparison of pictures taken from these locations suggests that the latter (or a boat moored near it) may have been from where Moran painted the scene.
The artist omitted a number of buildings that then existed on the Strand near Harmony Street, and altered the appearance of what is probably the Read House. A building across from the Read House (#47 The Strand) which was removed by the Lairds in the 1930's, probably did partially obscure the view of the Read House from the river in 1857.