New Castle, Delaware
Community History and Archaeology Program

Philadelphia Baltimore and Wilmington Engine
Passenger engine & tender built by the New Castle Manufacturing company, 1853.
W. H. Dobb, Master Machinist.
Diam. of cyl. 15" & 20" stroke.
Drivers 5.6" diam.
Boiler containing 109 tubes 10'8" long & 2 outside diam.
New Castle Manufacturing Company/Hicks Engine Works
The New Castle and Frenchtown Railroad's original engine was manufactured in England in 1832. Not much later, a factory was established at the intersection of South Street and the railroad for producing engines. Eleven locomotives were made by 1840; more were made into the 1850's.


The picture above is from a Pictorial History of The Locomotive (1899) of a locomotive built for the Philadelphia, Baltimore and Wilmington RR, a successor to the NC-F RR and eventually incorporated into the Penn. RR



Sources:
1856 Beer's Atlas (B)
1888 Scharf's History of Delaware (D)

New Castle Manufacturing Co. (B) (S)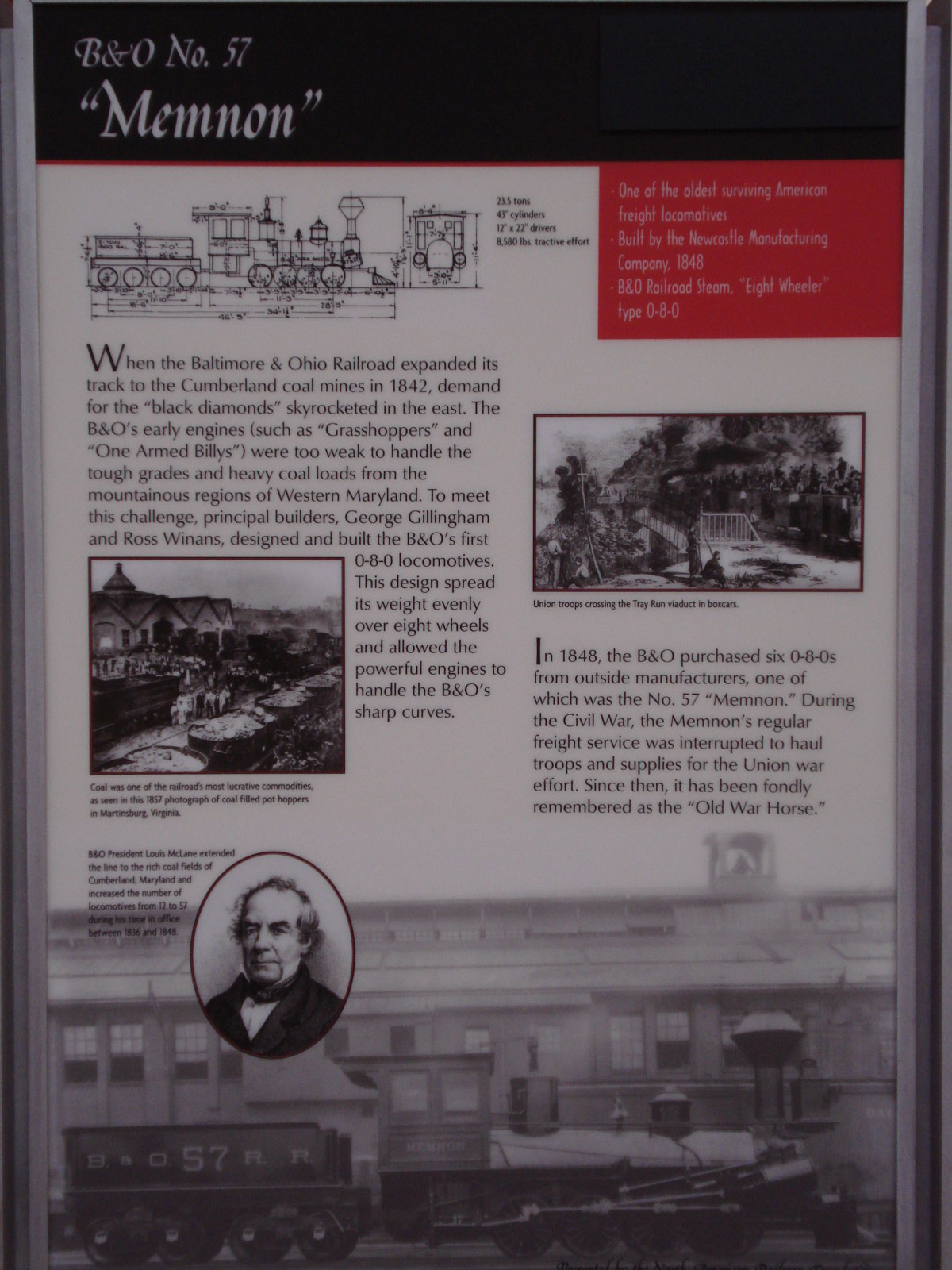 Courtesy
B&O Ralilroad Museum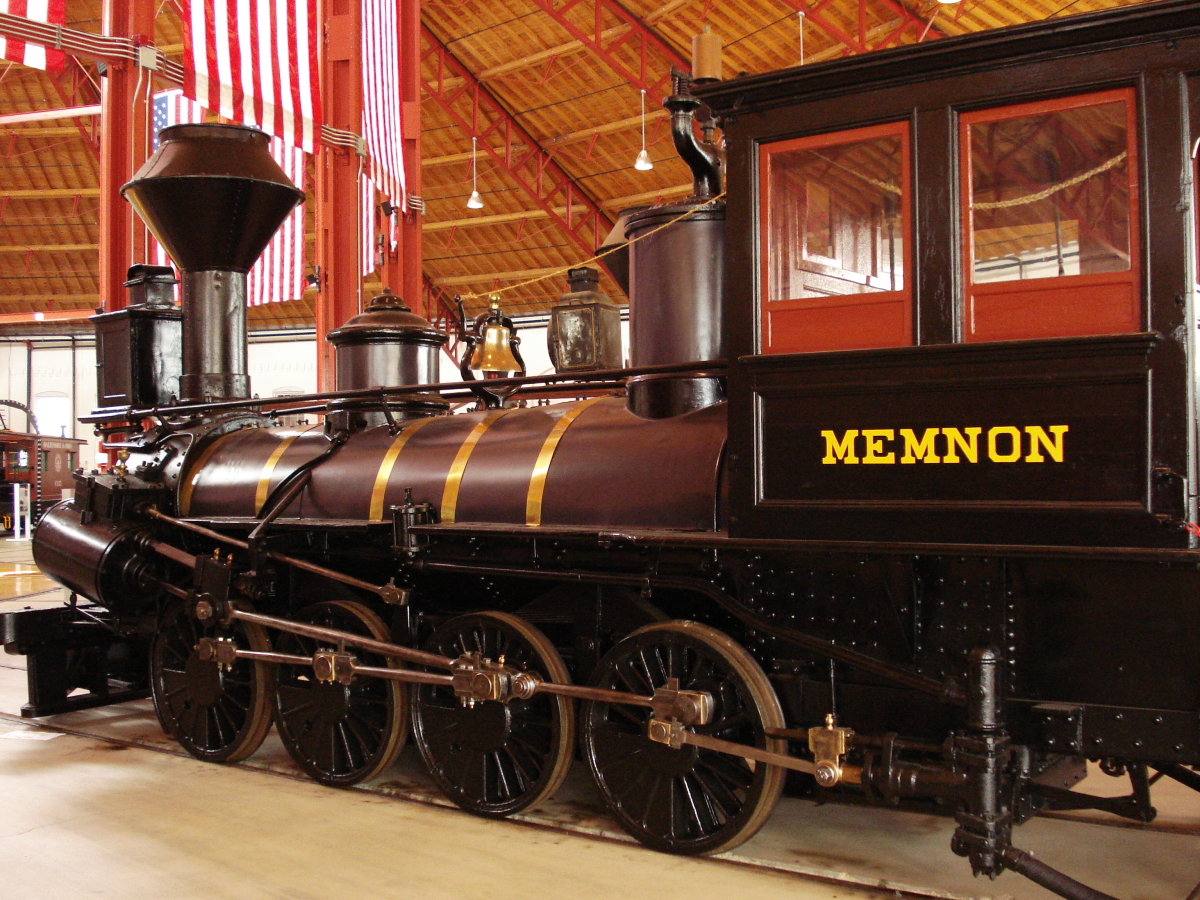 The engine described above, #57, 'Memnon' is on display at the
B&O Ralilroad Museum
in Baltimore.
As described in the
display
at the museum, the Memnon is one of the earliest surviving American freight engines. Bought in 1848 by the B&O because of its power to haul coal in western Maryland and West Virginia, the Memnon was pressed into service during the civil war to haul troops and supplies for the Union war effort.
According to Scharf (1888)

The New Castle Manufacturing Company was incorporated January 25, 1833, for the manufacture of cotton, woolen and metal goods, by Thomas Janvier, James Couper, Jr., James Rogers, James Smith and Charles I. du Pont.

In 1834 a foundry was built and shops erected to make locomotives. The shops were a long time in charge of Wm. H. Dobbs, and locomotives for use on the New Castle and Frenchtown Railroad were built there. Andrew C. Gray was one of the most active of the company. Subsequently the Hicks Engine Company occupied these shops, which was afterwards used by the Morris-Tasker Iron Works.

According to Connie Cooper (1983)

New Castle & Frenchtown had facilities for repairing its rolling stock and also the good fortune to hire an extremely talented engineer in 1835. Five were completed in the railroad's shop in 1834 and 1835. Meanwhile, a group of active citizens successfullyi petitioned the legislature to charter an enterprise , imaginatively called the New Castle Manufacturing Company, in January 1833. Neither petition nor charter mentions railroad equipment, but it must have been in the men's minds. ... In 1836, it produced eight engines, and one each in 1838, 1839 and 1840. ... The firm continued to produce into the late 1850's [see picture above]. Its records do not survive, a great loss for both New Castle and the history of American industry.

(Ph.D. thesis, U. Delaware, 1983, p161, A Town Among Cities, New Castle, Delaware, 1780-1840)