According to Scharf (1888)
THE TRITON SPINNING-MILLS, owned and operated by James G. Shaw, were erected by him in 1860–61, and sold under contract to a manufacturing firm in Boston. This firm contracted for the most improved machines to be made in Biddeford, Maine, to fit out the mills. The Civil War began, however, before the machinery was completed, and the Boston firm then gave up its project of engaging in the manufacturing business at New Castle.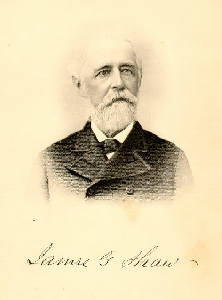 James G. Shaw, who then owned the mills, in 1863, secured the machinery contracted for by the Boston firm, and placed it in the Triton Mills. He associated with him James G. Knowles, and engaged in the manufacture of cotton-yarn. In 1871 the partnership was dissolved, and Mr. Shaw has since been the sole proprietor. The main building, as originally erected, was 50 by 500 feet. It has been enlarged 70 by 500 feet. These mills have been twice refitted and are supplied with the best machinery of American manufacture. The mills contain fourteen thousand spindles, and consume three thousand bales of cotton a year. The number of employees ranges from one hundred and twenty-five to one hundred and fifty.
James G. Shaw, the proprietor of the Triton Mills, was born in Chester, county of Delaware, Pennsylvania, October 21, 1828. He is a son of the late Samuel Shaw and Mary Ann Eyre, and comes of the old Sharpless stock that came over with William Penn, and settled in Delaware County. After being educated in his native town he engaged in mercantile pursuits. In 1857 he removed to New Castle, where he purchased the Chancellor Johns farm of one hundred and seventy-four acres and laid it out as an addition to the town. This led to the building of his mills, which he has since operated successfully. About 1864 he sold the land he had purchased to Thomas T Tasker, and has since devoted himself to his manufacturing interests. He has been an enterprising citizen and an active promoter and advocate of all public improvements in the town.
As shown in this undated photo (Courtesy Hagley Museum and Library), the plant at 9th and Washington streets became part of the Deemer Steel Co. It was demolished in 1987. After a study of soil , the top layer of soil was removed before construction of new apartments.