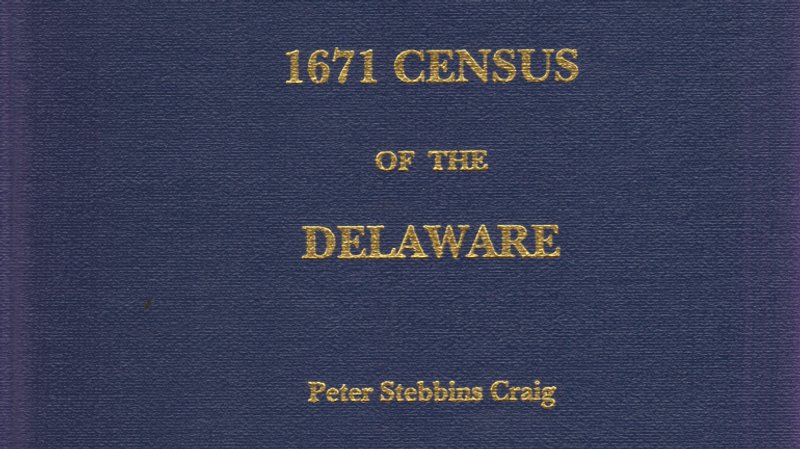 Preface and Crane Hook to New Castle portions
from the 1999 book. With permission of the author
Preface and Introduction
"The first permanent settlement of the South River began in 1638 with the founding of New Sweden at Fort Christina (now Wilmington), a colony that spread northward to the Schuylkill and southward to Sand Hook (New Castle) by 1655. In that year, New Sweden surrendered to New Netherland and remained under Dutch rule until 1664, when the Dutch surrendered the river to the forces of the Duke ofYork. Thereafter, up to the time of the first English census in 1671, it remained a part of the Colony of New York, governed out of Fort James on Manhattan Island.
...
New York Governor Francis Lovelace had only short-term goals in mind when he ordered the census in 1671 - to increase the collection of "quit rents" or taxes. Nevertheless, the resulting census serves as an important key in reconstructing the European settlements on the Delaware in this period. Although the river had been under English rule for seven years, very few Englishmen resided there. They were limited to the remnants of the 1664 invading force, joined by a handful of settlers from Long Island who had settled at Passyunk (South Philadelphia) and another handful of settlers from Maryland who had recently anived at the Whorekill (Lewes, Delaware). Otherwise, from Burlington Island to the Delaware Bay, the area was entirely Swedish or Dutch speaking. The Swedes and the Finns (who also came from Sweden) predominated north of New Castle, while the Dutch predominated in New Castle and the Whorekill.
....
Among the New York Historical Manuscripts at the New York State Archives in Albany, New York, is a two-page manuscript of considerable interest to historians and genealogists-the first English census of the Delaware. The document is endorsed, in the hand of Matthias Nicolls, then Secretary of Governor Francis Lovelace, as "A list of the Inhabitants of the Delaware" and dated 1671. It names 165 heads of households from Matinicum (Burlington) Island on the north to New Castle on the south.
....
The apparent purpose of this census was to insure that the Duke of York's government, which then had its headquarters at Fort James on Manhattan Island, was receiving the quit rents (taxes) due from land holders on the Delaware. After the capture of former New Netherland from the Dutch in 1664, orders were issued requiring all persons holding Dutch patents to get them renewed and all landholders who had none to make proper application for a patent. The response from the Delaware was quite limited, leading to a new decree on 1 July 1669 which specifically stated that this requirement applied to all "inhabitants in and about Dela aware." By 1671 it was apparent that many residents of the Delaware were still avoiding this requirement. A census was necessary if the recalcitrants were to be identified. The census, apparently taken in late April or early May 1671, was made by Walter Wharton.
Crane Hook
In 1662, Alexander d'Hinojossa, Governor of New Amstel, invited discontented Finns, living north of Christina Creek within the jurisdiction of the Upland Court, to move to Crane Hook to set up their own quasi-independent settlement. A number of families agreed.
Hendrick Andersson
(#108), a Finnish blacksmith, arrived in New Sweden in 1654. He died c. 1694 at Crane Hook, survived by his wife Margaret, a son Jacob Hendricksson and a daughter Elisabeth.
Bärtil Hendricksson
(#l09) alias Bärtil Parker, born in Sweden, moved by 1661 to the Sassafras River in Maryland, where he patented a tract called "None So Good in Finland." He sold this tract in 1669 to join his brother Peter at Crane Hook. He returned to Cecil County, Maryland, in 1674 to acquire "Indian Range," dying in 1682, survived by his wife Margaret and sons Matthias, Hendrick and Bartholomew Hendrickson.
Peter Hendricksson
(#110) alias Pelle Parker, born in Sweden, moved to Wild Hook about 1674 to share that tract with Hans Petersson. He died there in 1684, survived by his wife Christina and eight children, including sons Hendrick and Matthias Petersson alias parker. His widow then married
Conrad Constantine
. son of the New Sweden soldier Constantinus Gronberg from Mark Brandenburg, Germany, and had four additional children, Constantine, Christina, Maria and Augustine Constantine.
Eric Mattsson
(#111), a Finn from Värmland, Sweden. arrived in 1656. Prior to moving to Crane Hook, he lived on a branch of Skilpot Creek named Eric Mattsson's Run after him. He died before 1677, survived by his wife Anna and five children, including sons Matthias and Eric Ericksson. The widow Anna then married Hendrick Lemmens, who was probably a resident in the area in 1671. Wharton's entry for #I12 is missing from the document or else was left blank. The person, if any, named is not known. It was probably Anders Andersson Vinam (#81) who had recently moved to Crane Hook from Christina.
Eskil Andersson
(#113), a Finn born in Sweden, had arrived by 1657 and was still living in 1693. It is unknown if he married or had children.
Lars Eskilsson
(#114), was murdered by William Sinclair (#157) at the house of his brother Matthias Eskilsson (#131), 9 March 1671/2.
Samuel Petersson
(#115), a Finn from Värmland, Sweden, arrived in New Sweden in 1654. In 1674 he acquired a 1/4 interest in the Christina plantation ofJohan Andersson Stalcop (#8O). He died in 1689, survived by his wife Brita Jönsdotter, sons Matthias and Peter Peterson and several daughters.
Johan Mattsson Skrika
(#116) arrived in New Sweden as a soldier in 1654. He died at Crane Hook about 1691 survived by four sons (Matthias, Johan, Thomas and Jöran, who alternated between the surname of Matson and Skrika) and two daughters (Anna and Maria).
Lars Ollesson Thorsson
(#117), son of Olof Thorsson (#133), came to New Sweden with his father in 1640 and married Annika Clementsdotter, sister of Jacob Clementsson (#49) and Olle Clementsson (#99). By 1675 he had moved to Verdrietige Hook, where he died in 1684. He was survived by his wife, three sons (Matthias, Lars and Jacob Tussey) and at least two daughters (Margaret and Ellen.
Simon Johansson
(#119), a Finn, arrived in New Sweden as a soldier in 1654. In 1683 he moved with his wife Anna to the Head of Elk in Cecil County, Maryland, where he died after 1700, survived by sons Simon, Bärtil and Johan Johnson and at least one daughter, Margaret.
Matthias Bärtilsson
(#119), a Finn, and his neighbor Simon Johansson secured a Lovelace patent for their land, 29 July 1669. Matthias moved to Finn's Point in Penn's Neck by the close of 1671. He died about 1680, survived by his wife Anna Hendricksdotter and five daughters.
Also moving to Finn's Point in 1671 were three other Finns not named in Wharton's census:
Eric Jöransson
(who had been fined in the 1669 Long Finn Rebellion), his brother Staffan Jöransson (who had married Christina Hendricksdotter in 1670) and his brother-in-law Lars endricksson.
Evert Hendricksson Ek
(#120), a Finn, came to New Sweden in 1641 as a farm hand, married in the colony and then was laterjoined by his first wife and son Hendrick Evertsson. Evert died by 1683 when his son was shown as owner of his lands.
Paerden Hook
Paerden Hook and Swanwyck, lying along the west bank of the Delaware, were treated as one by Wharton. More accurately, they were two separate communities. Paerden Hook [horses' hook in Dutch] was the area extending from Badstu creek [sauna creek], the southern boundary of Crane Hook, to Jan Landemakers Hook, the boundary between Paerden Hook and Swanwyck.
Evert Brantie
(#121) appears to be the name entered by Wharton as the first resident of Paerden Hook, although no patent has been found for him. Evert was described as "old" and a veteran soldier in February 1679/80 when he sought pay for his services caring for arms and ammunition. It is likely that he was renting land at Paerden Hook in 1671 from the Sybrants family. Jan Sybrantsen, alias Jan Eckhoff. from Bremen, Germany, had been in the New Castle area as early as 1 October 1655 when he signed the oath of allegiance to the Dutch.
Hendrick Jansen Sybrants
(#122) occupied land at Paerden Hook which had been patented to his father, Jan Sybrantsen, 26 March 1669. The father being deceased by 1671, Hendrick Jansen was listed as head of household. Also called Hendrick Jansen van Bremen, he later married Carin, widow of Jöran Johansson (#130). Also living on the tract were other children of Jan Sybrantsen, including
Harman Jansen Sybrants
, who wrote his will at Paerden Hook on 1 April 1684 naming his wife Bilchy and daughters Annika and Catharina;
Sybrant Jamsen
, who died at Swanwyck in 1695, Jan Jansen Sybrants, who sold his share of his father's land in 1687; and Tryntie Jans, who was still a minor in 1676.
Pieter de Witt
(#123), Dutch, remained a resident of Paerden Hook until his death in 1683. His wife Annetje also dying soon thereafter, administration was granted to John Jaquet (see #101) who had married his eldest daughter. Peter's will of 26 September 1683 also named a son Teunis de witt.
Eremyntie
, widow of
Jurian Siericks
(#124) from Holstein, resided here with their sons John and Jurian Siericks and daughters (including Grietje). Upon her death, their land was sold to William Tom (#156), who never paid for it.
Roelof Anderson
(#125), his wife Hilitje Pieters, her brother Adam Pietersen and her sister Elisabeth Pieters shared a plantation with their mother, who was murdered by Indians later in the year. By August 1671, Roelof Anderson had moved with John Siericks (see #124), and Adam Pietersen to Appoquinimink Creek, where Roelof died childless about 1695. His widow married Isaac Vigoreau
Hans Hanson
(#126), a miller, was living at Paerden Hook as early as 1666 when he was listed as a neighbor of Arent Jansen (#127). Hejoined the exodus to Appoquinimink Creek where he received a patent, 26 February 1671/2. He died in 1696, survived by sons Peter, Hans, Joseph and Henry Hanson and a daughter Ann.
The tract occupied by
Arent Jansen Vandenburgh
(#127) had been patented by d'Hinojossa to Anders Mattson (#75), 20 September 1664, when the tract was described as being bound by Jan Eckhoff on the northeast and by Gerrit Sandersen on the southwest. On 6 June 1666 Arent Jansen agreed to purchase the land, then described as being bound by Barent the miller and Hans the miller. A confirming deed was given to Arent Jansen by Anders Mattsson's widow, 12 June 1673. On 1 March 1674/5 Arent Vandenburgh sold the Paerden Hook tract to Pieter de Witt (#123) and acquired a one-third interest in the lands at Bread and Cheese Island. The will of Aaron Johnson included a codicil of 28 November 1701 devising all of his estate to Holy Trinity Church at Christina after the decease of his wife, Barbara James.
Barent Hendricksen
(#128), a miller, was erroneously named Hans the miller by Wharton. Barent the miller lived adjacent to Arent Jansen in 1666. In 1672 he moved to Appoquinimink Creek. He was already in possession of that land when Lovelace issued his patent, 14 August 1671. On 19 October 1676, his widow Wybregh Jans, born in Dithmarshen, Holstein, entered into a matrimonial contract with Jan Siericks (see #124), born in Holstein, for the protection of the interests of Barent Hendricks' four children, Annetje, Agnietje, Paul and Styntjen Barents. After Jan Siericks died in 1678, she married John Walker. Wybregh died in 1697. The land occupied by Barent Hendricks in the 1671 census was owned by Gerrit Sandersen (#l34) whose patent of 25 March 1669 described the tract as bounded by Arent Jansen and Jan Hulcke.
Jan Hulk
(#129) remained in the area as late as 6 December 1687 when he testified that the land being sold by Jan Jansen Sybrants formerly belonged to Jan's father, Jan sybrants.
Swanwyck
Swanwyck, meaning Swan Cove in Swedish, had been settled initially in 1653 by a group of Swedes who fled the New Sweden colony for the protection of Stuyvesant's colony centered at Fort Casimir (New Castle). Other Swedes moved into the area after Governor Rising captured Fort Casimir in 1654.
Jöran Johansson
(#130) received a patent from Governor Nicolls, 3 August 1668, confirming his tract, originally granted by d'Hinojossa, located between Jan Landemaker's hook (#129) and Matthias Eskilsson (#131). A second patent for the same tract was issued by Lovelace, dated 24 March 1668/9. Jöran Johansson had arrived in New Sweden in 1654 as a freeman. He died before 1677 when his widow Carin was married to Hendrick Jansen Sybrants (#122), who was accused of despoiling the lands. The land was thereafter sold to Pieter de Witt (#123) to pay Jöran's orphan children, Hendrick, Jijran, Anna and Elisabeth.
Matthias Eskilsson
(#131) was a freeman in the New Sweden colony as early as 1654. His prior grant from d'Hinojossa was confirmed by Governor Nicolls, 3 August 1668, adjoining Jöran Johansson. In April 1672 he appeared in court as a prosecution witness in the murder of his brother Lars Eskilsson (#114) by William Sinclair (#157) He died before 4 September 1677 when his orphan sons Symon Matthiasson, 17, and Johan Matthiasson, 14, were placed under the guardianship of Olof Thorsson (#133) and Mary Block (#133). The same sons and their sister Margaret sued Peter Matthiasson, the eldest son. in 1683 to recover their share of their father's lands.
Lucas Petersson
(#132) from Öland, Sweden, came to New Sweden in 1641. Around 1653 he fled the colony and moved to Dutch-controlled Fort Casimir. On 4 June 1658, Jacob Alrichs, Governor of New Amstel. granted him a patent for land north of Olof Thorsson (#133). Having married the widow of Johan Thorsson Schaggen, also Swedish, Lucas Petersson also obtained a patent from Jacob Alrichs in February 1639 for Schaggen's lot. On 30 December 1671 Lucas Petersson purchased lands from the Indians in West Jersey that would later be known as Lucas Point (now Carneys Point, Salem County). He died there by 1686, survived by two stepsons (Jonas and Johan Scoggin), five sons (Peter, Lucas, Hans, Gabriel and Christiern Peterson) and two daughters (Elisabeth and Margaret).
Olof Thorsson
(#133) was granted a Nicolls patent on 28 May 1669 for his tract, bound on the northeast by Lucas Peterson and on the southwest by Gerrit Sandersen. With the departure of Lucas Petersson for New Jersey in late 1671, Olof Thorsson established a church on Petersson's two tracts to the northeast and granted the same to pastor Jacob Fabritius, 23 October 1672. Olof Thorsson had been sent to New Sweden with his wife and family in 1641 for punishment and, around 1653, had moved to the area south of the Christina River controlled by the Dutch. Olof Thorsson died at Swanwyck in 1678, survived by his wife Elisa, sons Olof Ollesson Thorsson (#71) and Lars Ollesson Thorsson (#117) and three identified daughters: Mary, wife of Hans Block (#135), the wife of Matthias Eskilsson (#131), and Petronella, the wife of Captain John Carr (#138).
Gerrit Sandersen
(#134) from Tiel, Netherlands, sailed to the New Amstel colony on 13 November 1661 with his wife and four children. He was a resident of Swanwyck by 8 January 1663 when d'Hinojossa granted a patent to Hans Block (#115) for the tract adjoining his. On 25 March 1669 Governor Nicolls confirmed to Sandersen two tracts, one located between Jan Hulk and Arent Jansen (occupied in 1671 by Barent Hendricksen, (#129), and the other (his home plantation) bound by Olof Thorsson (#133) and Hans Block (#135). Gerrit sold the upper tract to Jan Barentsen (#137), 3 Febuary 1674/5. He died before 1677 when Peter Matthiasson, son of Matthias Eskilsson (#131), and his wife Metje (apparent daughter of Gerrit Sandersen) had become owners of his home plantation. Another daughter, name unknown, was the first wife of Adam Pietersen (see #125).
Hans Block
(#135), born in 1616, was a gunner stationed at Fort Amstel by January 1660. He soon assembled considerable property north of the fort. First it was the tract of Timen Stiddem (#82). Then, on 20 April 1660 Barbara Tomas, widow of Leendert Classon, conveyed to gunner Hans Block the tract located between Timen Stiddem (then the property of Hans Block) and the property of Måns Andersson. Both were embraced in a patent issued by d'Hinojossa, on 1 January 1663 for 105 acres bound on the southwest by Paulus Duxon and on the northeast by Gerrit Sandersen. Further adjoining lands to the west were granted by d'Hinojossa, 18 September 1664, and purchased by Block from Anthony Bryant, 27 May 1665. When Block's land was confirmed by an English patent, 25 March 1668, Gerrit Sandersen and Paulus Duxon were still adjoining landholder. Hans Block died in 1676, survived by his wife Mary and one daughter, Barbara.
Paulus Duxon
(#136) and his wife Alice received a patent from Governor Nicolls, 1 August 1668, for a tract previously owned by Måns Andersson. The patent tracked Måns Andersson's survey of 11 November 1656, which identified Lars Boer (Bjur) as the neighbor to the southwest. The name of Paulus Duxon is not found after Wharton's 1671 census. His predecessor Måns Andersson, Swedish. had moved to Christina about 1657 and then to Maryland in 1661.
Jan Barentsen
(#137) occupied the lowest tract on Swanwyck formerly owned by the Swede Lars Bjur. The land in question had been acquired by Anthony Bryant who first rented it to Jan Barentsen on 24 August 1664 and then sold it outright on 10 September 1668. The will of John Barnes dated 12 November 1683 and proved 11 Januay 1683 4 named his widow Engeltje and daughters Engeltje and Branitje. The widow married James Hallyday, 1 September 1684.
New Castle
New Castle, formerly known as Fort Casimir when founded by Stuyvesant in 1651, as Fort Trinity when captured by the Swedes in 1654- 1655, and as New Amstel after it was sold to the City of Amsterdam in 1657, was renamed New Castle when taken by the English in 1664. As laid out in 1671, New Castle consisted of a row of lots, 300 feet deep, most of them containing one or two houses, extending along the Strand or riverfront from the old fort and magazine northeast of town to the place where the old horse-mill once stood at the southwest edge of town. About halfway along the Strand, a street known as Hart Street (now Harmony Street), extended northwest into the interior. Another road, generally known as Gerrit the Smith's street, later Wood Street (now Delaware Avenue), extended from the mill site westward into the woods. Between this street and Hart Street there was an open common, known as the Mart or Market. Northwest of the Mart was another road or path, known as Beaver Street (now 4th Street), flanked on both sides by lots, but few of these were built upon in 1671. Behind Beaver Street there were theoretical streets between the Smith's street and Hart Street known as Otter Street (now 5th Street) and Calves Street (now 6th Street), but they were largely undeveloped in 1671.
Northeast of Hart Street were two other theoretical streets, Land Street (behind the riverfront lots) and Minquas Street (extending from the Mart to the northeast parallel to Land Street). The only developments on these two streets were at the intersections with Hart Street, where Captain John Carr owned Gerrit Van Sweringen's former "great house" on a lot 60 feet wide and 233 feet deep southeast of Land Street and also a double lot, 120 feet wide and 300 feet deep between Land and Minquas Street, on which stood the "Statsherberg" [city tavern].
Wharton began his New Castle census here, with the household of Captain Carr (#138). He then went to the fort and systematically followed the Strand, recording the head of each household (#139-158). Then, he followed the loop along Gerrit Smith's street and Beaver Street (#159-162) to Hart Street, picked up two more isolated houses on the fringe of town (#163-164) and then added Peter Alrichs' home plantation (#165) on the river southwest of town. Along the way, he handed out patents where the landowner did not possess one, including a number of patents for empty lots.
Captain John Carr
(#138), the chief political and military officer on the Delaware, acquired from Anthony Bryant about 100 acres on the north side of the fort, extending to Swanwyck, for which he received a patent from Governor Nicolls on 8 January 1667/8. Also, another 150 acres of meadow and marsh land near the fort, formerly owned by d'Hinojossa, 1 January 1667/8. John Carr and his brothers Andrew Carr (#51) and Patrick Carr had been part of Robert Carr's invading force in 1664. Around 1665 John Carr had married Petronella, Swedish, the daughter of Olof Thorsson (#133). When the Dutch recaptured New Castle in 1673, John Carr fled with his family to Cecil County, Maryland, where he died early in 1676, survived by his wife and four children (Richard, Elizabeth, Mary and Petronella). His widow married George Oldfield of Cecil County by June 1676 and quitclaimed her interest in the "great house" in New Castle to Matthias Vandcrheyden, 18 August 1697.
No residents were recorded by Wharton at the fort or the magazine adjoining the fort on the southwest. Southwest of the magazine, a Lovelace patent dated 1 May 1671 was issued to Jacob van der Veer (#78) for a vacant lot, 105 x 300 feet, which van der Veer sold to Hendrick Williams Neering (see #152) on 29 January 1676/7. Southwest of this lot was another empty lot, of the same dimensions, which had been patented to Dirck Albertsen (#144), 11 August 1670. This was also sold to Hendrick Williams, 2 January 1676/7. These transactions identify the tract as being bound on the southwest by Gysbert Dircksen's fence.
Gysbert Dircksen
(#139) from "Ophemer" was a corporal in the service of New Amstel when it surrendered to the English in 1664. He stated that he was born in "Hop Emert" and was widower ofAnnetie Jans on 14 August 1678 when he married Cattalyntie Gerrits, born in the city of Bommell, widow of Reynier Reyniersen van der Coelen. Dircksen's
nuncupative
will, proved 3 December 1682, named his wife and three daughters: Susanna, born by his first marriage, and Anna and Aeltie, born by his second. The eldest daughter was then married to Aemelius de Ring (see #150).
Abraham Enloes
(#140) is the person described as Abraham the cooper by Wharton. He was a son of Peter Enloes, a silversmith, from Duisburg, Netherlands, who sailed from Amsterdam to New Amstel with his wife and children in 1657 and died there by 1663, Abraham Enloes acquired land at St. Augustine's Creek in lower New Castle County where, on 22 April 1676, Wharton surveyed his tract called "Abraham's Delight". Later having married the daughter of Dirck Albertsen (#144), Abraham Enloes operated a ferry between New Castle and Penn's Neck, where his wife had inherited one-half of a 469-acre plantation which Albertsen had acquired by 1669. Abraham Enloes was buried 11 February 1720 at the Swedes' church in Penn's Neck, where his son Peter Enloes was a member.
Machial Barron
(#141), deputy sheriff, his wife Gertruyd and her sons Reynier and Abraham van Hyst lived on a lot which Gertruyd's prior husband, Reynier van Hyst, had purchased from Lucas Dircksen van Berg for 900 guilders. Because van Hyst had not paid the widow of Lucas Dircksen, who had remarried pastor Jacob Fabritius, Governor Lovelace had ordered Carr to foreclose on the property, 13 April 1670. A new patent for the lot, dated 1 May 1671, was issued to Captain John Carr. After Carr's departure, the tract was acquired at a sheriff's sale by Justa Andersson (see #83), who sold it to John Williams Neering (see #152) for 2,400 guilders, 7 April 1678. Machial Barron and his family moved to Salem County, where he acquired considerable lands for himself and his two stepsons. He died in Penn's Neck about 1689.
Edmund Cantwell
(#142), one of the English soldiers arriving in 1664, was named High Sheriff in place of William Tom in August 1672. Cantwell married Maritje de Haes (see #143), and had an active political career until his death in December 1683. He was survived by his wife and three children, Richard, Johanna and Eizabeth. His lot was bound by Machial Barron on the northeast and Captain Carr and widow Crabbe on the southwest.
Widow Gertruyd Crabbe
(#143) had been a resident of New Castle since its founding as Fort Casimir in 1651. On 19 April 1643 at New Amsterdam, Gertruyd Jacobs of Emmenes, widow of Gerrit Jansen of Emmenes, married Roelof Jansen de Haes of Norway. They resided in Manhattan until 1651 when Roelof de Haes joined with Stuyvesant to acquire land from the Indians and to help establish Fort Casimir. He made this his home until his death, prior to 5 July 1654, when Roelof de Haes' widow made a purchase from the New Sweden commissary. On 27 July 1656 she married, a third time, Dr. Jacob Crabbe, and on 58 October 1656 Governor Stuyvesant belatedly issued to Geertruydt Jacobs, widow of Roelof de Haes, patents for two lots near Fort Casimir. In 1671 she was living on a small lot southeast of Carr's "great house" at the corner of Hart Street and the Strand with her son Johannes Roelofsen de Haes, baptized in New Amsterdam 4 December 1644. Her daughter Marritje de Haes, baptized 13 May 1646, was then married to Edmund Cantwell living next door (#142).
Dirck Albertsen
(#144), Dutch, was in New Amstel by 1658 and in 1671 was a justice on the New Castle court. He owned several lots in New Castle. His residence was on the Strand at Hart Street, opposite Widow Crabbe. Dirck Albertsen's wife was named Pietertje Barents. He died in 1676, naming Captain Edmund Cantwell and Johannes de Haes executors and guardians of his children. On 17 June 1690 Cornelis Dircksen and Abraham Enloes (#140) signed a release to the guardians for all claims against the estate of Dirck Albertsen. On 17 September 1695, as heirs of Dirck Albertsen, they sold the last of Albertsen's New Castle lots.
Marten Roseman
(#145), sometimes known as Marten Cleinsmit, Dutch, was a resident of Fort Casimir when that fort was captured by the Swedes in 1654. After the Dutch regained the fort in 1655, Marten Roseman's name appeared in Fort Casimir and New Amstel records, 1656-1662. His wife at the time was named Grietje. By 1664 Marten had married Christina, daughter of Olof Stille (#7) and, under the name of Marten Cleinsmit, he received from d'Hinojossa a patent for Moyamensing with Olof Stille and others. He soon returned to New Castle where he went into partnership with Dirck Albertsen and built a house on part of Albertsen's lot. In 1671, he was a magistrate on the court. On 14 June 1675, Marten Roseman and his wife Christina sold their lot on the Strand, bound on the northeast by Hart street. Roseman's will of 28 November 1676, proved 6 June 1677, named Pieter Alrichs and Johannes de Haes executors and guardians for his minor children. On 17 June 1690, Cornelis Dircksen (son of Dirck Albertsen, #144), having apparently married Marten's daughter, signed a release for all claims against Marten Roseman's estate.
Matthys van Linborgh
(#146) witnessed an affidavit in New Amstel, 22 June 1662. He died before 1676 when his widow Aeltie (daughter of Walraven Jansen de Vos, #85) was married to Justa Andersson (son of Anders the Finn, #83). Justa became stepfather to Matthys' two sons, Jan Matthysen and Sybrant Matthysen, who later adopted the surname Valk, meaning hawk in Dutch. The placement of van Linborgh in the census shows that he occupied a "small house and slip of ground on the Strand" adjoining Dirck Albertsen which Jan Boyer bought of Moses de Gann in 1678.
Hendrick Jansen van Jever
(#147) from Oldenburg acquired land near Hellgate, Long Island, in 1656, but was a resident of New Amstel by 1662. On 1 October 1664 he signed an oath of allegiance to the English as a justice of the court. On 8 January 1667/8 Governor Nicolls granted him a patent for his lot on the Strand, formerly owned by New Amstel Governor Jacob Alrichs. In 1671 he was still a justice on the New Castle court. On 28 November 1671 he sold. Jacob Alrichs' former lot to Cornelis Jorisen. He also owned land in Maryland, where he was granted
denization
in 1668 and married Elizabeth Carter, born in Virginia, the widow of Nathaniel Utie of Spesutia Island, Baltimore He died as Henry Johnson in Baltimore County, 18 January 1690/1, survived by two sons, Joseph and Henry Johnson.
Isaac Tayne
(#148), also spelled Taine, Tine, Tyne, Teyn, who had the alias L'Pierre [the stone in French], was with the Dutch forces retaking Fort Casimir in 1655 and was promised a house and lot there by Stuyvesant. Isaac Tayne and his wife Sara Rosen soon became residents of New Amstel and in 1666 he also acquired land in West Jersey (now Salem County) from the Indians. In 1671 he resided on a lot on the Strand identified in the 1669 patent issued to his neighbor, Barent Egge (#149). Isaac Tayne died in New Castle in 1677, survived by three children, Isaac Tayne Jr., Mary (wife of Dr. Jean Desjardins) and Elizabeth (wife of Jan Bisk) who divided their father's property in New Castle and west Jersey.
Barent Egge
(#149) was granted an English patent on 28 May 1669, under the name of Bernard Eken, for his house and garden on the Strand bound on the northeast by Isaac Tayne and on the southwest by the Dutch Church. This census is the last record of Barent Egge alive. Margaret, his daughter and sole heir, with her husband Reynier van der Coelen, Jr., sold his lot to John Cann in l690.
Matthias de Ring
(#150) and his brother Aemilius de Ring lived southwest of the Dutch church on land which had been patented to their father Nicolaes de Ring by d'Hinojossa in 1664. Nicolaes had arrived in New Amstel by 1659. Aemilius de Ring married Susannah, daughter of Gysbert Dircksen (#139) and by his will of 17 March 1692 had three surviving children, Nicolaus, Lucretia and Gysbert de Ringh. Matthias de Ring, born about 1643, clerk and reader at the Dutch church, apparently never married and died in 1695.
Thomas Snelling
(#151), a former English soldier under Captain Carr, was discharged in 1669. At the time of the census he occupied a lot and tavern on the Strand originally belonging to Foppe Jansen Outhout (#152), who sold to Jacob van der Veer (#78) who sold to Snelling. By 1677, when Snelling's lot was owned by Justa Andersson (son of Anders the Finn, #83), the patent had been lost. In the meantime, on 12 October 1672, Snelling had sold his holding at Bread and Cheese Island (#87) to Justa Andersson in exchange for a new plantation on Appoquinimink creek. Snelling died 10 October 1691, survived by a daughter Mary.
Foppe Jansen Outhout
(#152), Dutch, born about 1631, was quartermaster during Stuyvesant's expedition to recapture Fort Casimir. Upon return of the Dutch ships to Manhattan, he completed his duties there and returned to the Delaware as a permanent resident. By 1660, he operated a tavern in New Amstel (see #151) and was a justice of the court in 1664 when he signed the oath of allegiance to the English. In 1671 he was still a justice in New Castle and continued in this capacity until 1680 although he had moved his principal residence to Penn's Neck, where he had purchased land from the Indians in 1665. His wife was Sarah Neering, who had previously married and had sons John and Hendrick Williams Neering. Foppe Outhout and Sarah Neering had at least two daughters. One became the second wife of Adam Pietersen (see #125), and the other (Sarah) married Olof Ollesson Thorsson (son of #71). Foppe Outhout died in Penn's Neck, New Jersey, by 1693; his widow died in New Castle in 1703.
John Arskin
(#153) was a sergeant under Captain John Carr when the English took New Castle in 1664 and was then accompanied by his son Jonas Arskin, 16 years old. In 1671 he lived on a lot, patented 1 October 1669, bounded on the east by John Henry, on the north by the Mart and on the west by his partner, Marten Gerritsen (#154). After this census he moved with his partner to their plantation on the south side of Christina River between Swart Nutten Island and Feren Hook, which had been patented 1 January 1667/8. On 23 October 1677 he drowned while on a canoe trip to New Castle for supplies, leaving a widow Jean and four children to survive him.
Marten Gerritsen
(#154), living just west of John Arskin, was a joint owner with Arskin of the Christina Creek plantation patented to them in January 1667/8. He drowned in his canoe on the Christina River in October 1680. His wife was Christina Lom. Her stepfather Lars Andersson Collinus (#a) and her brother Sven Månsson Lom were named administrators of his estate. The children, Gertrude, Armegot, Gerrit and Marten, moved to Moyamensing to live with their re1atives.
Dr. James Crawford
(#155), a soldier who arrived with Carr in 1664, received substantial land grants from Governor Nicolls, including a town house adjoining the house of Marten Gerritsen. He died at St. Georges Creek, 17 February 1682/3, survived by his widow Judith and four children, of whom sons John and James and a daughter Mary lived to adulthood. His widow was remarried in 1686 to Edward Gibbs [
prominent New Castle Quaker
]. After Judith's death in 1703, Crawford's three children sold their father's New Castle lot.
William Tom
(#156) also came to New Castle in 1664 with Captain John Carr's company. In 1671 he was the High Sheriff for the Delaware and owned considerable property. Among these was a patent dated 29 July 1669, for a lot then in his tenure bounded on the north by James Crawford (#155), on the east with the river, on the south by Cornelis Wynhart (#158) and land of Matthias de Ring on the west. William Tom never married. While under house arrest for debt, he wrote his will 3 January 1677/8 and died that month, leaving his entire estate (after payment of debts) to his godson, Richard Cantwell. When the estate was finally settled, 22 February 1682/3, nothing was left for Richard.
William Sinclair
(#157), another former soldier under Captain John Carr, was granted a license on 16 November 1668 to trade between New York and the Delaware with his partner James Crawford. Sinclair's house in New Castle was mentioned in a sale of land by William Tom to Pieter Alrichs, 12 April 1670. On 5 April 1672 he was scheduled to be tried for the murder of Lars Eskilsson (#114). The outcome of this trial is not reported. However, William Sinclair was in Cecil County, Maryland, by 15 July 1672 when he witnessed the will of Hugh Cornelisson, who left his entire estate to Edmund Cantwell (#142). William Sinclair died in Cecil County before 7 November 1694, when Philip Barrett, administrator of his estate, filed his final account.
Cornelis Wynhart
(#158) was listed as an abutting resident in patents for New Castle lots granted William Tom, 29 July 1669 and Pieter Alrichs, 16 August 1670. He apparently left New Castle immediately after Wharton's census, for on 1 June 1671 he was issued a patent for a lot he had purchased at the Whorekill [Lewes, Delaware] from Hendrick Harmansen, 3 April 1664. Wynhart had been in Manhattan as early as 1662 and returned there by 11 June 1672 when Cornelis Wynhart of Delaware was admitted as a free burgher of New Amsterdam. On 8 January 1679/80 Cornelis Wynhart was fined 50 shillings in Manhattan for being party to a price-fixing agreement by the Dutch coopers there. Cornelis Wynhart from Groningen, widower of Catharine Pelle, living in New York, was remarried 18 May 1683 to Ariaentie Hendricks from Middelburg.
Jan Martensen
(#159), apparently an associate of Cornelis Wynhart, is not to be found in other Delaware River records. Later, on 1 May 1678, Cornelis Wynhart was a sponsor in Manhattan at the baptism of Jan Martensen and Aeltie Jans' daughter Marritie.
Gerrit Jansen van Beck
(#160), alias Gerrit de Smit, was a resident of Fort Casimir in 1654, when it was captured by the Swedes, and made a purchase from the New Sweden commissary, 10 September 1654. His name continues to appear in records for New Amstel until as late as 30 June 1660, when Gerrit the smith was described as living "on the street farthest back at the edge of the woods. On 30 August 1660, as the City's smith, he sailed to the fatherland on the
Groenen Arent
. On 13 November 1661, as Gerrit Jansen van Beck, he was a passenger on the
Purmelander Kerck
departing Amsterdam for New Amsterdam. On 17 December 1683, Gerrit Smith testified that he had lived on this street for 22 years and that he and his partner Reynier van der Culen had acquired the land from Pieter Alrichs. No English patent has been found. Gerrit Jansen the smith died after 1693, survived by at least one son, Jan Gerritsen, who married Abiah Egberts (see #161) by 1693.
Barent Egbertsen
(#161), a Dutch tailor from Schuttorp in the Graefschap Benthem, was married in Manhattan 15 November 1657 to Aechtje Alberts from Embderland. He did not move to New Castle until after the English takeover in 1664. His will dated 20 October 1674 was proved by his second wife and widow Rebecca 6 June 1677. He was survived by three daughters, Henrietta, Anna and Abiah. On the 1677 tax list his widow's second husband, Thomas Spry, lived on this tract adjoining Gerrit Smith.
Anders Stille
(#162), Swedish, apparently had just married. Wharton enters the words "Anna Peterson marryed to Andreas" with no last name given to the husband. The man was Anders Stille (son of Olof Stille, #7), who testified on 17 October 1683 "that he has been 25 or 26 years here in town." The wife was Annetje Pieters, daughter of Pieter Wolfertsen van Couwenhoven, who had purchased a lot northwest of Beaver Street at Hart Street in 1669. At the time of this census, her father (a brewer) was languishing in debtor's prison in Manhattan, as a result of a lawsuit by Philip Carteret. In 1667, when a resident of Elizabethtown, East Jersey, van Couwenhoven had mortgaged all of his property to Carteret and was unable to pay off the mortgage. After Pieter van Couwenhoven's New Castle property was sold in 1673, Anders Stille and his wife Annetje moved to the Christina River with John Ogle, John Arskin (#153) and Marten Gerritsen (#154). Anders died before 1693, survived by sons Jacob and Johan Stille and at least one daughter.
Opposite the brewer Pieter van Couwenhoven's property was an empty lot between Beaver Street and the Mart, for which a patent was given to Jean Paul Jaquet (#101) bearing the date of 1 May 1671. This was soon acquired by the English soldier
John Ogle
, not listed in Wharton's census, who married by the end of the year Anders Stille's niece, Elisabeth Petersdotter, daughter of Ella Stille and her first husband. Peter Jochimsson (see #19).
Hans Bones
(#163), Dutch, had been granted a patent by d'Hinojossa, confirmed 1 October 1669, for a house and lot on Otter (now 5th) Street. He died in New Castle before 1677, by which time his widow Catharine had become the wife of Jan Harmansen.
Evert Gerritsen
(#164), Dutch, owned a house and lot, confirmed by English patent on 26 March 1669, between Otter (now 5th) Street and Calves (now 6th) street. His name has not been found in other Delaware valley records.
Pieter Alrichs
(#165) born in Niekerk, Groningen, Netherlands. about 1637, came to New Amstel in 1657 with his uncle, Governor Jacob Alrichs, and married Maria Wessels in Manhattan on 9 February 1664. When the English took New Amstel in 1664, they confiscated all of his lands in present Delaware. In 1670, however, he acquired three parcels in and near New Castle. The first of these was a lot acquired 12 April 1670 from William Tom which was towards the Strand and bound by William Sinclair's house and by Cornelis Wynhart's fence. On 7 June 1670 he acquired from John Arskin his 7-acre tract "west of town." This were confirmed by a Lovelace patent dated 16 August 1670. Alrichs, a justice on the court, later accumulated extensive lands south of the town. Peter Alrichs of the town of New Castle wrote his will 25 January 1694/5 dividing his extensive property among his four sons, Sigfridus (bapt. 8 October 1666), Harmanus, Jacobus (bapt. 10 September 1671) and Wessel Alrichs. Peter Alrichs died in 1697.
Other Soldiers and Servants
In New Castle, as elsewhere, Wharton did not write the names of soldiers or servants who either lived at the fort or in one of the several houses in town. Several of the soldiers held patents for land within the jurisdiction of the New Castle court, but if we accept Wharton's listing of heads of household as being accurate, no development of the land embraced within those patents had yet occurred.
Among the soldiers and servants not already mentioned were the following:
John Henry
and Charles Floyd, both soldiers who had arrived with Carr in 1664, had received a patent from Governor Lovelace, 1 September 1669, for a tract of land behind New Castle adjoining Gerrit the smith's house. The tracts was never developed by them. In 1671 Charles Floyd was a carman in Manhattan. John Henry remained in New Castle. Soon after this census, probably in 1672, he acquired Thomas Snelling's lot and tavern (see #151). He died before 7 February 1676/7 when his widow Catharine sold the same tract to Justa Andersson.
Jan Hendricksen
, Dutch, was a soldier for Captain Carr on 1 August 1668 when granted a lot near Swart Nutten Island with three other soldiers. On 27 January 1675/6 Governor Andros issued a patent to
Hendrick Jansen
for the vacant lot between the lots occupied by Snelling (#151) and John Arskin (#152) in 1671. Tax lists and deeds for the adjoining properties prove that the holder of this patent was Jan Hendricksen, who died in 1690, survived by sons Hendrick and William.
Cornelis Jorisen
, Dutch, was granted a patent by d'Hinojossa in 1664 with two others for a tract later known as "Lazy Point" on the east side of the Delaware opposite Matinicum Island. In 1668 he sold this tract to Pieter Jegou and probably returned to New Castle. At the time of Wharton's census he was married to Geertie, the widow of Andries Hudden and was stepfather to Richard Hudden, born in 1661 . On 28 November 1671 Cornelis acquired the lot on the Strand owned by Hendrick Jansen van Jever (#147) where he was probably residing at the time of the census. Cornelis Jorisen died in New Castle before 1678, by which time his widow Geertie had married the widower Gerrit Otto (#91). Cornelis Jorisen was survived by one child of his own, Anna Maria. Geertie died in 1685.
Jan Harmansen
, Dutch, received 235 guilders for his work helping to quell the Long Finn Rebellion in 1669. A carpenter by trade, he married by 1677 Catharine, the widow of Hans Bones (#163), and purchased the former lot of Hendrick Jansen van Jever (#147) from Gerrit Otto, 5 November 1678. Jan Harmansen died by 1693, survived by his widow Catharine and two daughters, Dorcas and Ann.
Pieter or Pierre Jegoe
purchased "Lazy Point" on the New Jersey side of Matinicum Island from Cornelis Jorison and his associates in 1668 and secured a license to operate an ordinary there from Governor Carteret. In 1670 this property was plundered by the Indians and Jegoe was taken prisoner. He was soon freed and thereafter lived at Deer Point in New Castle County until he sold "Lazy Point" in 1683. He then moved to Cecil County where his will was proved 1 April 1687. The will indicates that he died without issue.
Hendrick Jacobs Falkenberg
from Holstein was married to a daughter of Sinnick Broer (#84) and undoubtedly living at Deer Point in 1671. He soon went into partnership with Pieter Jegoe and became the lessee
Excerpts from
1671 Census of the Delaware
, Peter Stebbins Craig, J.D., Genealogical Society of Pennsylvania, Philadelphia, 1999. © Peter Craig
Converted from a PDF to HTML using optical character recognition. Manual correction of mis-recognition by Jim Meek, NC-CHAP (2009).