Children
Clarke: Sara Ann Clarke, 1802

Marley: Louisa, 12-31-1812
Esther, 1814
Benjamin II, 1816
Richard McWilliam, 1819
Elizabeth, 1821
John, 1823

Ownership of this portrait remained with descendents of the McWilliam family until it was acquired by the current owner. The previous owner stated that it was of Louisa McWilliam, youngest daughter of Richard McWilliam, owner of 8 The Strand. Her birth, marriages, children and death are documented in the Vital Records of Immanuel Church and Van Leuvenigh family genealogy. Even her residence in New Castle as a head of household is documented in the federal census for 1830 and 1840.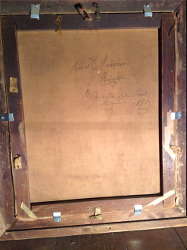 What is not certain is who the portrait subject was. Louisa was not the youngest daughter, and on the back of the painting is written "C. K/R Palmer, Painter, Wilmington Del, March 1850[59?]". This is after her death on August 9, 1849. Was the portrait of widow Louisa McWilliam Marley done some years earlier, or was it of daughter Louisa Marley, born on New Years Eve in 1812? The woman portrayed seems older than 37. There was a C. K. Palmer painting miniatures in Connecticut around 1840-1842. Then, there's a C. K. Palmer photographer listed in Elkton, MD in 1862. Many painters and miniaturists became photographers as the market shifted. (Information courtesy Heather Coyle, Delaware Art Museum).

Was it Esther/Hester, actually the last daughter of Richard, who with Louisa owned the house at least until 1801?

If she was a McWilliam, she grew up in one of the few early houses to survive to this day. The McWilliam house at 8 The Strand (also called the McIntire house after a 20th century owner) is one of the oldest houses in town. Laussat Rogers placed it at c1690 for HABS. Jeannette Eckman, in her study of early property records, said her "search for records of this property were unrewarding".

Much more information about the house, its documentary history and probable construction date is available from a research paper by Constance Anderton for a vernacular architecture class in 1992. Although the house had been dated to c1690, she noted that structural features revealed when a stucco coating was removed argued for a 1730s-1750s building date.

Who built the 8 The Strand? There were two Richard McWilliams. The elder, born in Ireland was Chief Justice and recorder of deeds. The younger was also chief justice (1773-1777).


Richard McWilliam Sr owned another lot and house across the street, at 13-15 The Strand in 1748. Whether he owned 8 The Strand is not known.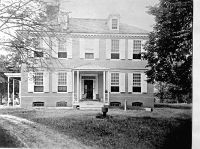 Richard McWilliam Esq (Jr.?) was the second wealthiest person in New Castle Hundred in 1776. He had 5 daughters. In his will, he gave to Ann, Sarah and Rebecca his estate at Spring Garden. It is referred to as being on River Road, or near Hares's Corner. The 1863 Beer's Atlas map of New Castle Hundred places it in the current Centerpoint business complex across from Penn Farm.

To Louisa and Hester/Esther (his youngest daughter) he left 8 The Strand and other properties. The inventory of his possessions made at his death is a substantial list of material possessions. In addition to the house, one bit of his wealth can still be seen. An elegant silver sugar bowl with the initials RMW is owned by the New Castle Historical Society.