New Castle, Delaware
Community History and Archaeology Program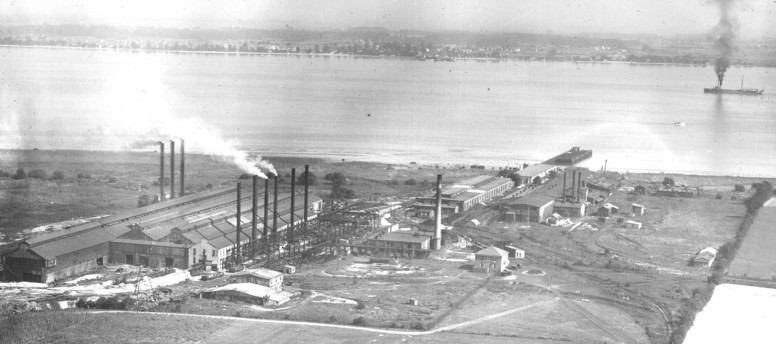 Penn-Seaboard Steel Company, New Castle approx 19xx? Courtesy Hagley Museum and Library
Industry in New Castle
New Castle is now a nice historic town. But in the past it was home to five or more steel mills or foundries, locomotive and aircraft factories, gas plant, cotton and woolen mills, an umbrella factory, [glove factory?], slaughterhouses and tanneries, and in the distant past, a brewery and Dutch windmill! One of the steel mills was immediately adjacent to a local amusement and excursion/pleasure location!

New Castle Manufacturing Co. (#8)
Inside the town proper, at South Street & the railroad was a locomotive factory.

Click on the names above to see details on the factory.

Also inside the town limits was the Triton Cotton mill, which later became part of Deemer Steel and is now Deemer's Landing Apartments..

Sources:
1856 Beer's Atlas (B)
1885 (S) 1901 (M) Sanborn Maps
18xx Hexamer Insurance Map (H)
1888 Scharf's History of Delaware (D)
1906 USCS Topographic map (U)
1907 Cooper Sketch (C)
1929, 1937, 1945 Aerial photos

Penn-Seaboard Steel (C), (H) 1919, 1954
Tasker Iron (B) (S) (M) (D) (H)
Bethlem Steel
American Manganese &
Steel, Deemer's Beach
Deemer Steel
Triton Cotton (B) (S) (M) (U) (D) (H)
New Castle Woolen (S) (M) (D)
Wm. Lea Flour (S) (M)
Gas Works (B) (D)
New Castle Manuf./Hicks (B) (D) a
Penn RR Coal Loading Dock

The Tasker Iron Works was downriver near the present town of Dobbinsville


Deemer Steel/ AMSCO/Deemer's Beach

Downriver further was the Bethlehem Steel Loading plant which later became American Manganese Steel Co (AMSCO). Immediately adjacent was Deemer's beach.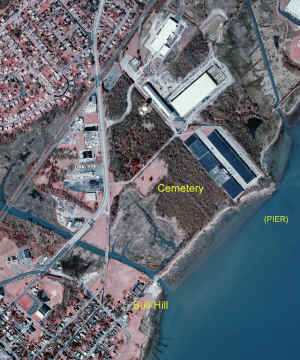 Penn-Seaboard/Baldt/Brylgon
The Penn-Seaboard Steel Mill in New Castle was between Rte 9 and the river adjacent to the Immanuel Glebe and cemetery, at the current site of the "Twin bridges industrial park." The 1940's photo shows a single complex. Earlier, in the 1906 USGS map and the 1904 Cooper sketch, two mills the and .. were shown.
Baldt and Brylgon steel mills. The Baldt company of Chester, Pa built the former mill in 1896 to produce anchor and chain castings in return for land and tax immunity offered by the Trustees of the Common to encourage industry. by offering land and tax advantages. Brylgon was a seel company in Reading, Pa, which probably built a plant for similar reasons. Only the names remain as streets in the Rogers Manor across Rte. 9. The only thing visible in the
Bellanca Aircraft